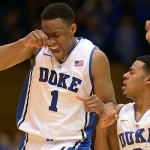 Duke at Syracuse
Feb. 1, 2014 • 6:36 p.m.
Syracuse, N.Y. • Carrier Dome (34,616)
ESPN • Blue Devil IMG Sports Network • ESPN Radio
The Opening Tip
• Currently on a five-game winning streak, Duke heads to Syracuse, N.Y., to face ACC newcomer Syracuse Saturday at 6:36 p.m. in the Carrier Dome. The game will air on ESPN and the Blue Devil IMG Sports Network.
• Duke is ranked No. 17 in the Associated Press Poll and No. 16 in the USA Today Coaches' Poll. Duke is 16-8 all-time when ranked No. 17 in the AP Poll.
• Duke is 14-25 all-time against the No. 2 team in the country. The last No. 2 team Duke faced was Louisville in the 2013 NCAA Elite Eight, an 85-63 loss.
• Duke is 5-4 away from home this season, including a 2-2 record in true road games. Duke has won two straight road games, topping Pittsburgh (80-65) this past Monday and Miami (67-46) on Jan. 22.
• Duke is 2-2 against the top 25 this season with wins over No. 22 Michigan and No. 18 Pittsburgh.
The Last Time Out
• Duke won its fifth game in a row after defeating Pittsburgh, 80-65, Monday at Petersen Events Center. The loss was Pittsburgh's first home loss this season.
• Pittsburgh entered the game as the top rebounding team in the ACC with a +9.3 margin per game, but Duke posted a 37-32 advantage on the boards on the way to outscoring the Panthers 28-16 in the paint.
• Jabari Parker led Duke with 21 points and 11 rebounds for his third straight double-double and broke the Duke freshman record for 20-point games with his 12th of the season.
• Andre Dawkins hit 6-of-7 three-pointers and scored 20 points in just 15 minutes of play off the bench.
• Amile Jefferson keyed a dominant effort in the paint, grabbing 10 rebounds and scoring 14 points on 5-of-5 shooting. Jefferson hauled in a team-high six offensive rebounds and added two blocks.
By The Numbers
• Duke head coach Mike Krzyzewski and Syracuse head coach Jim Boeheim are the two winningest coaches in NCAA Division I history. The two have combined for 1,912 victories and five NCAA Championships. Coach K and Boeheim are the only two coaches in NCAA Division I history to collect 900 wins at one school.
• Duke, Clemson and NC State are the only ACC schools that will face all three league newcomers – Notre Dame, Pittsburgh and Syracuse – on the road this season.
• Saturday's contest marks the second straight game in which Duke has played in a venue for the first time. Monday's meeting with Pittsburgh was Duke's first trip to the Petersen Events Center, while Saturday's contest against Syracuse is Duke's first in the Carrier Dome. Pittsburgh set the Petersen Events Center attendance record Monday with 12,944 fans, and Syracuse is expected to do the same at the Carrier Dome.
• Duke's defense has been strong during its current five-game win streak as the Blue Devils have allowed just 58.4 points per game and held all five opponents to 65 points or fewer.
• Syracuse, which ranks sixth nationally in points allowed per game (57.8), will be the fifth team Duke has faced this season that ranks among the top 20 nationally in points allowed per game. Duke has topped the opponent scoring averages of all four of the previous teams and is 3-1 in those games with the lone loss coming at Clemson (59-72) on Jan. 11. Duke has also faced Virginia (1st, 56.0 ppg.), Miami (11th, 59.3) and Pittsburgh (t-15th, 61.1).
• Duke has a +11.3 rebound margin over its past four games. Jabari Parker is averaging 11.8 rebounds per game in that four-game stretch, including 5.3 offensive rebounds.
• Jabari Parker has recorded a double-double in three straight games. His seven double-doubles are the most in the ACC and third most by a Duke freshman. His seven double-figure rebounding games are the fourth most by a Duke freshman.
• Parker is only the fifth freshman in Duke history and the first under Coach K to post double-doubles in three straight games. The last to do so was Gene Banks, who had five straight from March 4 to March 25 during the 1977-78 season.
• Parker is averaging 20.5 points per game in four games against top-25 opponents. He has topped the 20-point plateau twice in those games – 27 versus Kansas and 21 versus Pittsburgh – and has hit at least seven field goals in all four outings. He has added 7.3 rebounds, 1.0 blocks and 1.0 steals per game.
• Duke is 10-0 this season and 39-2 in his career when Andre Dawkins scores in double figures. Dawkins has scored 10+ points in three of the past four games.
• In four games against ranked opponents, Dawkins has hit 9-of-10 (.900) three-point field goals and 11-of-13 (.846) field goals overall. He hit 6-of-7 (.857) three-point shots against No. 18 Pittsburgh Monday to tie the school record for highest three-point percentage in a game.
• Dawkins and Rodney Hood are the top two three-point shooters in the ACC, sporting shooting percentages of .475 (47-of-99) and .448 (43-of-96), respectively. Duke is shooting an ACC-leading .414 (194-of-469) from three-point range as a team.
• Amile Jefferson has been Duke's leading rebounder over the past 13 games, averaging 8.8 rebounds per game during that stretch. Jefferson has at least six rebounds in those 13 games.