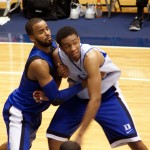 There is a winter storm warning brewing the Triangle area and that normally shuts down anything that moves but not the Duke versus UNC game.  North Carolina Governor McCrory has already canceled his appearance and for good reason, but it appears the game will go on and much of the fan base is simply worried about possible power outages which would certainly make the Voice of the Blue Devils, Bob Harris smile.
Governor McCrory said, "Don't put on your stupid hat," with the storm looming but isn't Duke vs UNC all about the craziness?  That said, I still plan on trying to make it to and from the Dean Dome with stupid hat in tow.  And maybe I will pick up a bag of marshmellows just in case we are forced to camp out in the media room and the overflow hall area that houses us for this particular game.
Believe it or not, there were rumors in Greensboro in the ACC offices that this game could be moved, but for some reason I think it goes on as planned. I mean, imagine those who've made special arrangements, including ESPN and one has to feel the show will go on.
This is not my first Duke-UNC game. Far from it. In fact, I have lost count of all that I have witnessed in person and on occasion from afar. But the one thing that is a given is that no other game gets fans going more than this storied college basketball rivalry.
You've heard it said before that one can throw out the results coming into this game and to a point that is true. While there have been occasions when one team was sure to win of sheer talent, there have been plenty of classic upsets, too numerous to speak of.
That said, what can we expect tomorrow? Well, that is simple. You can expect each team to play their style of ball in an effort to win.
The Tar Heels will run their back door cuts as they have for decades while Duke will shoot their share of three-point shots. The question is which team can implement their will on the other and that is where the picture muddles a bit.
With the exception of Syracuse, Duke and UNC are playing good basketball and this is what the fan base desires coming in. A win for UNC, provided they can follow-up which few do after wins over Duke would vault them back into the nation's top 25 teams.
Oddly, UNC has shown they can rise to the occasion against anyone with stellar out of conference wins which will almost certainly get them into the Big Dance, regardless of this games outcome.
Duke has played much better since and during their win over Virginia with their only loss coming on a controversial no call against Syracuse which could have effected the outcome.
In that game, Duke showed their ability to have different players step up and it's important in a rivalry game for that to happen again. Time and time again, it is a player, usually an upper classmen for the Blue Devils or the Heels who can play a heavy hand in the outcome.
Maybe this is a game where Leslie McDonald goes off or could it be an unexpected lift from another senior like Josh Hairtson?
It's no secret that the Tar Heels will try to pound the ball inside against Duke just as it is no secret Duke will try to cut the head off the UNC offense in defending Marcus Paige.
Those two things are but a few given things, but the game will ultimately come down to which team plays the best beyond their stars.
Can Jabari Parker allow the game to slow a bit and play consistently under control? Will Quinn Cook continue to shake his shooting slump or what if the Blue Devils get in early foul trouble defending the paint?
Questions abound and that is why we watch and attend the games. But one thing for certain is that this game despite the lack of the normal fanfare due the Tar Heels being just outside the Top 25 will be huge for both teams.
That means it comes down to effort and mental toughness. A year ago, Duke could depend on Plumlee and Kelly down low and both played well against the Tar Heels. But this season, well, it's a different team and one that faces the Heels for the first time as a unit.
In games like this, you have to weather storms of momentum and keep your focus. You play from timeout to timeout trying to win each or stay in the game until crunch time rolls around.
While we could see an easy win for one team or the other, this game has the early feel of one that will be close. Duke is the favorite here but not by much, especially in Chapel Hill.
Duke, however, has been playing as consistent as they have all season and in their last outing righted a sub par first half effort with an all no nonsense  like second against Boston College.
UNC has rolled of late and they have as much momentum as Roy Williams could have hoped from when they once stood with a single ACC win.
You may have noticed that I have not talked much of individual players and that's because this will be a team win for the victor.
UNC has more momentum than at any other time this season while Duke has been playing solid of late save some defensive lapses in partial games.
I really feel the key for Duke is to play their game with perhaps a bit more pressure than normal out front. Another vital aspect will be to keep their front court players out of foul trouble to prevent UNC from playing volley ball with their size.
Both teams have righted the ship in the past couple of weeks after some early season losses and the Blue Devils seem hungry, yet so do the Heels.
That will make for a great game and possibly another classic. But for now, we'll all just have to wait a few more hours to see and that's half the fun when these two college basketball giants come together.