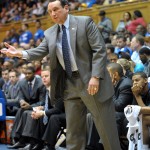 The Duke and Syracuse games were scripted, right? Before I go any further let me preface this by saying it is definitely tongue in cheek.
As entertaining as professional wrestling is to some, it is no doubt scripted to elicit all kinds of fan responses. With that said, suppose for a second the ACC scripted games for the betterment of the league.
If this were to happen, the Duke versus Syracuse games to date would have had the exact  effect the league wanted and they could not have scripted better games for fan chatter and overall interest.
In the first meeting, a now infamous no call on a Rodney Hood dunk attempt stood out, but even that could not tarnish a great game. In their first game in the Carrier Dome, Duke and Syracuse traded punches until he very end, one upping each other with a dizzying display of offense.  The game was an instant classic and competitive like few other games this season with some amazing play.
Flash forward to Cameron Indoor Stadium this past Saturday where Duke and Syracuse took the game to the wire again, but this time with great defensive efforts in a grinder of a game.  The game was just as exciting but different enough to make the Basketball Gods or the promoter, in this case the ACC seem genius.
Once again, the game came down to a critical late game play and once again, fans around the nation were glued to their television sets to see it all unfold.
For those with their head in the sand, Rodney Hood was again involved in the play and this time he took a charge and we all know what happened next.The normally actively complaining yet usually restrained Syracuse coach Jim Boeheim, ripped  his coat off and was at mid court complaining of a call which led to double technical fouls and his ejection.
And the call?  It was made by the same referee who elected to go with a charge call that made no call at all right in front of the aforementioned Hood attempted dunk at Syracuse.
This of course, made for great theater, even if it cost his team a chance to still win the game. And in some ways, that is one of the many side chats that have been visited making again, for great entertainment.
Say what you will of the calls in either game but the reality is a split is what was destined to happen and in some ways it indeed seemed oddly scripted.
There have been no losers in either match up and that means the ACC wins big here with one of its new marquee games. In fact, the games were an immense success in the all important entertainment ratings and still the talk of the town.  Everywhere you turn there are memes funning with Boeheim, or those still discussing verticality of a player on a charge call and everything in between.
And to further the seemingly scripted games popularity, the teams now seem almost destined for a rubber match in the up coming ACC Tournament. While it will truly be a challenge to get to the title game, it would be a disappointment for many if it doesn't happen and can you imagine the joy in the faces of those in the ACC offices should they get a ratings banaza?
Maybe, just maybe, good friends Jim Boeheim and Mike Krzyzewski got together this off-season and decided the games would play out as they did. And perhaps in their angst to play one another they agreed that each game would go down to the wire in incredibly entertaining fashion earning each an agreed upon split.
Okay, we all know that didn't happen, but what did occur could not have been scripted any better by Don King or any other promoter.
Only time will tell if we see these two teams battle again, but be it this year or the next, the Duke versus Syracuse match up is now must watch television.  Pass the popcorn, please.