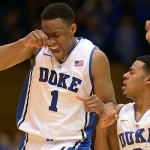 It took awhile for it to happen but there are few that haven't heard that tonight's Duke vs UNC game has been canceled due to inclement weather.
The make up date will be on February 20th but the ACC has yet to release a time for the game but that should happen in short order.
This means that Duke will now have just two days rest for their rematch with conference leader Syracuse. Not only that, Duke will now face the tremendous challenge of playing four games in eight days starting with the Maryland game this Saturday in Cameron Indoor Stadium.
Several logistical issues have yet to be addressed but many Duke fans rushed to ticket brokers to purchase tickets put up for sale in droves today when the snow started in earnest around noon. It remains to be seen how all that will go down.
From my perspective, cancelling the game was the right thing to do with concern to safety. It would also have been a bit unfair for Duke to have to travel in the conditions and play in a Dean Dome full of rowdy students making for a possibly uncontrolled or unusual environment and let's face it, no Duke versus UNC game should be played in said conditions.
While we as fans want to see this game go on, well, it just made sense to reschedule in light of safety issues. And for those thinking this helped Duke, I again point to four games in eight days.