ppppppppppppppppppppppppppppppppppppppppppppppppppppppppppppppppppppppppppppppppppppppppppppppppppppppppppppppppppppppppppppppppppppppppppppppppppppppppppppppppppppppppppppppppppppppppppppppppppppppppppppppppppppppppppppppppppppppppppppppppppppppppppppppppppppppppppppppppppppppppppppppppppppppppppppppppppppppppppppppppppppppppppppppppppppppppppp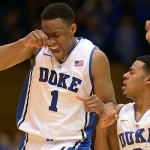 There There are nights when you don't shoot the ball well and that was the case for Duke against Maryland today in Cameron Indoor Stadium where the Blue Devils shot 33% from the field for the game.  Duke also shot just 20.8% from beyond the three-point stripe which translates into their worst production of the year in an area that is normally it's strength.
Normally when that happens, a team will lose but the Blue Devils held on for a hard-fought 69-67 win over a pesky Maryland team. Many immediately starting seeing just the negatives but if you've played the game before you realize that this win comes with benefits.
Let me explain. When you win a game you could have easily lost, it means you tough out a win. When you tough out a win and you don't play your typical game, it wakes you up and you prepare better when practice starts back.
Duke faces a trap game when they travel to Georgia Tech this week before they return to the Triangle and play a red-hot North Carolina team and an undefeated Syracuse team a mere two days later.  Games like today's helps to better prepare you for adversity in that it serves as a wake up call in the way one dodges a bullet. Duke started the game strong and they built a 10 point lead, but props to the Terps who played a solid game and came back to put a serious scare in the Blue Devils and a rowdy capacity Cameron crowd.
Even today, the Blue Devils benefitted from earlier game experiences  which helped them to win a close game and the staff can only hope that this helps a young team round the corner with the one and done season in March just around the corner.
That's what the season is about.  That being a process of growth and despite what many will consider a lack luster performance or a close call, the Blue Devils did the most important thing in that they came away with a win to push their ACC record to 9-3.  Duke also won their 20th game of the year for the 18th consecutive season.  Quite the accomplishment, huh?
Duke was once again led by their freshman standout Jabari Parker who tallied 23 points to go with 8 rebounds. Amile Jefferson helped as well with 12 rebounds, an area some consider a weakness for Duke. And any time a team can win dishing a season low six assists, then it is one of those games you feel fortunate to win.
It's just too easy to focus on the negatives this time of year for many but with a road visit to Georgia Tech coming up Tuesday, you just want to win and move forward for the bottom line is the score doesn't really matter in this one nor the fact that it was a close call in the standings.
Krzyzewski pointed to the fact that Duke was taken out of their routine after being ready to play against North Carolina before the game was cancelled.  This included not going to classes and that led to a tough Friday practice after what was termed a disappointing this past Thursday.
But let's not under value the Maryland effort for they played Duke as tough as they ever do and they can be proud of their performance where they took one of the nation's top teams to the wire. After holding Dez Wells in check for the first half, he found his mojo in the second scoring 17 points and having his way with Duke guards who struggled to defend him.
That meant Rasheed Sulaimon had to run the point for much of the game again and he did so well enough for Duke to win on a night when stars like Rodney Hood were saddled with foul trouble.
Anyhow, Jabari Parker was the difference in my eyes and with that said here is what he had to say in the Duke locker room after the game.