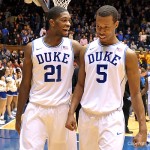 The Duke Blue Devils will be the last ACC team to play this evening as they take on Clemson. This game will come down to many intangibles and with that said, let's take a look at them.
The revenge factor
Duke travelled to Clemson earlier in the season and lost 72-59 and let's face it the Blue Devils haven't lost to the Tiger that often. One would think this would bring about a bit of a revenge factor if you will. Losing twice to the Tigers in one season, despite the fact they are a decent club would be devastating to a Duke team hoping to keep up a tradition of excellence.
Hungry Tigers
What could easily off set a possible Duke revenge effort is a hungry team. Clemson will likely need to beat Duke to gain an NCAA birth and this will make for some serious effort. Clemson currently stands at 20 wins.
The lay off
Duke has not fared well after long lay offs and with a 9:45 or so start this could be a factor. Duke struggled to defeat Maryland in Cameron after and early season lay off and we all know what happened at Wake Forest.
This means Duke needs to get off to a quick start
One of the things I will be watching is how the Blue Devils start the game. Will said lay off have the team rusty? A slow start could also give Clemson team confidence and teams can do amazing things when they have momentum riding with them.
Block out, Devils
In the first game, Duke let up a lot of easy basket not blocking out and Clemson is athletic and springy on the boards. They advanced past Georgia Tech with follow up and hustle buckets and Duke will need to match that energy.  Clemson knocked down their free throws in a big way against Tech and keeping them off the boards will eliminate several opportunities to go to the line.