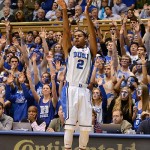 The Duke Blue Devils travel to Wake Forest to face the Demon Deacons on their annual Senior Day tonight. This, of course, will be their last road game of the regular season and it's a key one if Duke hopes to pull down the second seed in the fast approaching ACC Tournament.
There are several intangibles at work in this game for the Demon Deacons. Many feel that this could well be Coach Jeff Bzdeliks last home game and while this would normally point to a team which is a clear underdog, don't be fooled and think this will necessarily be a blowout win for the Blue Devils.
The bottom line is that playing Duke is like a Super Bowl to the Demon Deacon players. It's an opportunity to right the season which took a nose dive after a promising start and we must never underestimate a teams efforts.
Add to the scenario that it is Senior Night where fans will say farewell to the likes of Travis McKie, who is capable of rising to the occasion with a solid performance.
For Duke, this game is like a business trip. They want to go into Winston Salem and come out with a win and no injuries. The Blue Devils need the win for seeding purposes, not only in the ACC Tournament, but the NCAA or March Madness as well.
That said, I expect that this game could be a little closer than some think, but I do feel Duke has enough moxie to get the job done.
If that happens, expect a short press conference from Coach Mike Krzyzewski in that he'll want to get his charges back to Durham as soon as possible to rest and prep for their upcoming game with a red-hot North Carolina Tar Heels team on Saturday.
We saw just last evening how a team can play above their normal selves a bit in Georgia Tech's win over Syracuse on their home court. What I am saying is strange things happen this time of year in college basketball and Duke wants to avoid that happening to them.
All that said, Duke must take precautions not to look forward in this game and the opening minutes of said game could set the tone for the entire contest. In short, Duke needs to get out to a good start and not allow Wake to gain momentum and get their crowd into the game.
I feel Duke finds a way to win, but I also feel this game as I said earlier could be a little tougher than some think. And by 9:10 or so this evening, we'll find out if this Duke bunch found their mojo to set up a huge game on Saturday.
In short, Duke must take care of first things first.