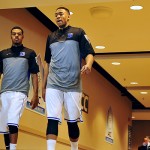 And the parings are in …
The good news is that Duke will play in Raleigh which is less than a thirty minute ride without traffic from campus.  Another positive note is that there are far worse places to play like Anaheim, California, so should Duke advance, Indianapolis is familiar turf for the staff in that Duke won their last national title in the venue.  While Duke will certainly not look ahead, it's hard for fans not to do the same and with that said let's do so.  Trust me when I say the play in-game between Iowa and Tennessee is likely to win two games and face Duke.  I say that because in my mind both teams could conceivably beat a much higher seed in UMass.  The streaky Vols demolished Virginia earlier this season that they look to be a troublesome match up with their athleticism should it take place.  If Duke moves past the aforementioned teams in Raleigh, they will then likely have a rematch with Michigan and it's simply not easy to beat a good team twice.  If they make it to the final, they will likely find defending national Champion Louisville, Kentucky or the nation's top rated and undefeated team in Wichita State.  No road is easy but if the Blue Devils make it to Dallas, they will certainly have earned a spot.  Duke will play in an open to the public practice this Thursday from 1:30 to 2:10 in Raleigh
After review …
When you are at the game live, you catch many things some miss on television.  Of course, there are times when that flips and after watching a replay of the game I found myself almost wanting to participate in what some call "Terping."  If you are wondering what "Terping," is, let me share that some in the media refer to it as an off the cuff remark about complaining in general with the usual emphasis being on officiating.  Before I go further, let me say that I still think Virginia earned their win.  I am not saying Duke didn't want this game but I will say I think the Cavaliers may have more and they made the plays to secure a win.  You've all heard the phrase the tie goes to the runner in baseball.  Well, it seemed like every even call went the Cavaliers way, save a couple.  I cannot remember a game where Duke shot just 11 free throws to their opponents 38.  That is quite the gap.  And let's not forget the two technical fouls, one certainly earned, the other questionable.  What some may have missed is Coach Mike Krzyzewski trying to get Jamie Luckies attention but was ignored and that led to him throwing a sharpie and that is where the technical came from.  Trust me, if a team is going to get a tech, they want to get their moneys worth and a word in and Krzyzewski was left miffed.  It was a very critical call in that Duke had the ball as well and it played into Virginia taking solid momentum into halftime after a Duke comeback.  During the post game press conference, Krzyzewski mentioned that Jabari Parker went to the line for three shots on twenty-four field goal attempts.  "That was ridiculous, shameful," said Krzyzewski twice and while I am not sure the outcome would have been altered on this day, I must agree that the numbers were clearly in the favor of the victors.
Yes Virginia!  It was a tough loss ..
It was a tough loss.  When you get a chance to win a title in the new expanded ACC, you have to take the bull by the horns for the title will not come easy moving forward.  I mean, look how long it took Virginia to return to center court and see the confetti fall.  It was a great season for Virginia and Tony Bennett who got my Coach of the Year vote.  What it apparent is that this team hasn't really win anything this season.  A tough schedule gave them little hope of a regular season title and falling short in the ACC Tournament is something they will have to put behind them quickly.  By Duke's lofty standards, this could be considered a "mildly," disappointing season to date.  But that's what March is for in that if they make a run, all past shortcomings will soon be forgotten provided they are still playing.
Notes – Duke forward Jabari Parker has been named the 2014 Integris Wayman Tisdale Award winner as announced by the U.S. Basketball Writers Association Monday.