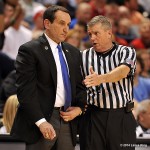 We will be three seasons into the new ACC 18 game schedule this coming year and today the league announced two years of future schedules.
Before we go further here is the slate for the coming season -
Duke 2014-15
Home/Road: North Carolina, Wake Forest, Syracuse, Notre Dame
Home: Miami, Georgia Tech, Clemson, Pittsburgh, Boston College
Road: Florida State, NC State, Virginia, Virginia Tech, Louisville
Louisville joins the league this year and Duke will travel to play the Cards with no return date, much like a season ago when Pitt entered the league.
The Blue Devils will also visit Virginia without a return date to balance out their single home game in the series this year. And they also travel to Florida State for a single game.
The three aforementioned games is a tough draw in that Louisville and Virginia are expected to be upper division teams while the Noles return a solid nucleus while adding help from the junior college ranks, making them one of the more sure picks for the upper division in my view.
As always, Duke takes on it's most storied rival against North Carolina and once again we have dual games with Syracuse, which is not only one of the leagues best new match ups, but the nations.
The Blue Devils will also play Notre Dame home and home for the first time this season and Wake is the other school they have a home and home schedule with.
Also announced was the 2015-16 slate which is as follows -
Duke 2015-16
Home/Road: North Carolina , Wake Forest , NC State, Louisville
Home: Florida State, Virginia, Virginia Tech, Syracuse, Notre Dame
Road: Miami, Georgia Tech, Clemson, Pittsburgh, Boston College