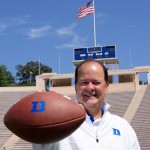 With today being the first day of July, Blue Devil Nation will start to take a deep look at everything Duke Football.  The goal is to have a new post everyday previewing the season by folks who've covered the program for years.  As you all know, Duke is coming off their first ten win season in school history, not to mention back to back bowl games for the first time ever.
Last year was an amazing season and the progress Coach David Cutcliffe and company have made on the field and the recruiting trail is worthy of plenty of chatter.  We feel that will continue and that the time to win is now in that the Blue Devils have some key veteran players.  In fact, Duke may have arrived a season early a year ago, much like the basketball team did when they won their first national title under Coach Mike Krzyzewski, only to repeat the following season.  While that analogy is on similar in nature, there is plenty of hope and chance the football team goes to an unprecedented third straight bowl game and is a force in the ACC.
That said, we look forward to breaking down many aspects of the program, be it scheduling, position battles and the liquid changes to facilities and more.  So, check in every single day this month as we begin the hype for the 2014-15 season.