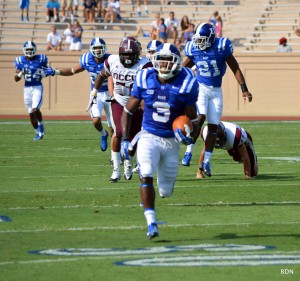 Duke is the defending Coastal Division Champions and enters the 2014 season looking to earn a return trip to the ACC Championship Game and play in a third consecutive bowl game. The Blue Devils will once again feature a high octane offense, this year under new offensive coordinator Scottie Montgomery who was promoted upon the departure of Kurt Roper to Florida. In this article, Blue Devil Nation breaks down the offense position by position.
Quarterback: Senior Anthony Boone returns for his second season as the Blue Devil starter. Duke's record when Boone starts is 10-2 with the two losses being to Florida State in the ACC Championship Game and Texas A&M in the Chic-fil-A Bowl. Two games that standout as exemplary examples of Boone's talent and toughness are the 2012 home win over Virginia when Boone was thrust into the starting line-up in relief of an injured Sean Renfree, and the 2013 home win over Navy when Boone was forced to return a week early from a broken collarbone when Brandon Connette suffered an injured ankle in practice. In both cases, Boone responded splendidly and led Duke to victory. After Heisman Trophy winner Jameis Winston, Boone is arguably the most accomplished returning quarterback in the ACC. The other three scholarship quarterbacks on the roster: Thomas Sirk, Parker Boehme and Nico Pierre, have taken a combined zero snaps in college so while Duke has a lot of talent backing up Boone, the Blue Devils have zero experience. Boone's health could be a significant storyline in 2014; however, nobody should sleep on Thomas Sirk who was ahead of Brandon Connette on the depth chart in the spring of 2013 prior to suffering a torn Achilles tendon. Sirk has a reputation as a powerful runner with an accurate arm.
Projected starter: Anthony Boone
Running Back: Two experienced and talented players, Josh Snead and Shaq Powell, will anchor the running back rotation in 2014. Snead averaged an impressive 6.1 yards per carry in 2013, while Powell averaged 5.5 yards per carry. Redshirt freshman Joe Ajeigbe and true freshman Shaun Wilson will occupy the next two spots in the rotation so running back depth is a concern entering the season. Ajeigbe had a strong performance in the Spring Game so expectations are he will be up to the task of playing significant snaps this season, but only time will tell if true freshman Wilson is ready to make an immediate impact. The rotation has relied on four running backs the past several years so the suspension of Jela Duncan could be a big blow in 2014. Depth at running back is perhaps the number one concern for Duke's offense this coming season.
Projected starter: Josh Snead
Wide Receiver: This discussion has to start with returning All ACC and team receptions leader Jamison Crowder who hauled in an ACC record 108 receptions for 1360 yards and eight touchdowns in 2013. Crowder will be one of the best receivers in the nation in 2014. After Crowder, there will be plenty of competition for the second and third starting spots. Duke has a plethora of talent at wide receiver including Max McCaffrey who recorded 26 receptions for 282 yards and four touchdowns; Issac Blakeney with 19 receptions for 244 yards and four touchdowns; Johnell Barnes caught 15 passes for 217 yards; Anthony Nash caught three passes for 31 yards; Ryan Smith with two receptions for 41 yards. Added in to the competition will be redshirt freshmen Terrance Alls and Quay Chambers, and true freshmen Trevon Lee and Chris Taylor. Lee is a dynamic player who should press for immediate playing time.
Projected starters: Jamison Crowder, Max McCaffrey, Johnell Barnes
Tight End: Another position where Duke returns two talented and experienced players. Braxton Deaver and David Reeves are both excellent players. Deaver caught 46 passes for 600 yards and four touchdowns in 2013. His 13 yards per reception was tops on the team. In Duke's 35-22 come from behind victory over Virginia, in Charlottesville, Deaver caught two touchdown passes of 47 and 24 yards, while David Reeves caught a two point conversion pass. In the Chic-fil-A Bowl, David Reeves caught a 4th quarter 21 yard touchdown pass where he impressively tip toed down the sideline to remain in bounds. These two guys are big, talented receivers who can run block as effectively as they catch passes. Behind Deaver and Reeves on the depth chart will be Erich Schneider who redshirted in 2013 and true freshman Davis Koppenhaver. Sophomore Dan Beilinson is injured so his availability to compete is questionable. With Deaver and Reeves the tight end position is in solid shape in 2014.
Projected starter: Braxton Deaver
Offensive Line: A strong argument could be made the strength of the offense is the talent on the offensive line. Strength in the trenches tends to show itself in the 4th quarter a quarter Duke excelled in last season. Seniors Laken Tomlinson and Takoby Cofield will lead a unit that proved in 2013 they could both run block and protect the quarterback on passing plays. The line returns three starters with center Matt Skura being the third. Lucas Patrick and Cody Robinson have both played an impressive number of starts, and redshirt sophomore Tanner Stone is healthy after missing the 2013 season due to an injury which required surgery. Additional depth will be provided by Marcus Aprahamian, Carson Ginn, Casey Blaser, Sterling Korona and Austin Davis. Duke is deep along the offensive line so strong 4th quarter performances should take place once again in 2014.
Projected starters: Laken Tomlinson, Takoby Cofield, Matt Skura, Lucas Patrick, Tanner Stone