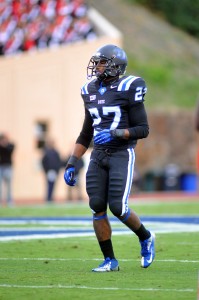 Will any freshmen players make an impact for the Blue Devils in 2014? Who is the next DeVon Edwards? Those are intriguing questions worth discussing so in this article Blue Devil Nation takes a look at which positions are prime for the emergence of new impact players.
Multiple freshmen made serious contributions toward team success in 2013. Impact players included: redshirt freshman DeVon Edwards with touchdowns on two kickoffs and two interceptions, plus the game ending interception of North Carolina quarterback Marquise Williams in the 27-25 Blue Devil victory in Chapel Hill; redshirt freshman Corbin McCarthy sacking Virginia quarterback David Watford for an 11 yard loss; true freshman Breon Borders with four interceptions; true freshman Deondre Singleton with 63 tackles including a quarterback sack; true freshman Bryon Fields with 42 tackles; and true freshman Johnell Barnes with 15 receptions for 217 yards plus 10 kickoff returns for 204 yards.
It isn't an overstatement to say freshmen contributions made the difference in Duke winning a history making 10 games. This is especially true about the freshmen contributions in the secondary.
Let's take a quick look back at a few of the most significant impact plays of 2013 before moving on to discuss positions where impact players could emerge during the 2014 season:
1. DeVon Edwards returns kick-off 99 yards for a TD in 27-25 win over UNC: Carolina scored to take a 15-10 lead, after Jamison Crowder fumbled a punt, as momentum was clearly swinging in the Tar Heels favor. Edwards fielded the ensuing kickoff, headed straight up the middle, found some space, cut right and raced untouched up the right sideline to give Duke a 17-15 lead with 1:19 left in the 1st half. The kickoff return touchdown took the wind out of Carolina's sails before halftime.
2. Johnell Barnes' 50 yard reception in 38-31 victory over Troy: Duke was up 21-14 in a back and forth game, facing 3rd down and 20 yards to go on their own 18 yard line when Brandon Connette found Barnes down the left sideline for 50 yards to the Troy 32. Four plays later Duke scores to increase the lead to 28-14. Barnes' catch was a critical play in a critical game. The victory over Troy was the first of eight straight victories.
3. DeVon Edwards returns interceptions for touchdowns, on back-to-back plays from scrimmage, in the 38-20 victory over N.C. State: Duke scored with 3:31 left in the game to take a 24-20 lead over the Wolfpack. After the kickoff, on the first play from scrimmage, Edwards intercepts quarterback Brandon Mitchell and returns it 25 yards for a touchdown. Another kickoff, and on the first play from scrimmage, Edwards intercepts quarterback Pete Thomas and returns it 45 yards for his third touchdown of the game.
4. Deondre Singleton 2nd quarter interception in the 48-30 win over Miami: With Miami leading 17-7 and driving, Deondre Singleton intercepts Hurricane quarterback Stephen Morris on a tipped pass and returns it 14 yards to the Duke 48 yard line. Duke executes a six play, 52 yard touchdown drive to cut Miami's lead to 17-14. Singleton's interception shifts game momentum from Miami to Duke.
5. Corbin McCarthy sacks Virginia quarterback David Watford in come from behind 35-22 victory: On Virginia's second possession of the 2nd half, the Cavaliers faced a 3rd down and nine yards to go at their own 31 yard line, when Corbin McCarthy executed a safety blitz and sacked David Watford for an 11 yard loss. McCarthy's sack ensured Duke started their next possession with good field position at the Duke 47 yard line. A three play, 53 yard touchdown drive and Duke had cut the Virginia lead to 22-17.
Duke enters 2014 with a deep team due to Coach Cutcliffe's aggressive redshirting and improved recruiting success, which means the upperclassmen have come into the program, worked extremely hard, paid their dues and are poised to excel in their junior and senior seasons. But a hole or two might still exists in the two deep roster.
There are talented youngsters in the program as demonstrated by the freshmen discussed above so the potential is there for freshmen to impact the team once again. Here are the positions where the emergence of a young impact player is possible in 2014:
Running Back: Duke has used a deep running back rotation over the past several season but enter 2014 with only two experienced running backs: Josh Snead and Shaq Powell, so the running back position is prime for the emergence of a young impact player with the candidates being redshirt freshman Joseph Ajeigbe and true freshman Shaun Wilson. Ajeigbe turned in an impressive performance in the Spring Game rushing for 59 yards and adding 34 more yards on four pass receptions.
Wide Receiver: The Blue Devils are extremely deep at wide receiver; however, outside of Jamison Crowder, no receiver has emerged as a bona fide star. Max McCaffrey and Issac Blakeney are solid receivers who will be better in 2014 than they were in 2013, but the wide receiver position is a prime spot for someone such as Trevon Lee or Quay Chambers to emerge as an impact player lined up opposite Crowder.
Kick and/or Punt Returner: What? Jamison Crowder and DeVon Edwards have these two positions all wrapped up! Right? Well, a player doesn't have to be a starter to make an impact. Situations routinely arise were a team's primary punt returner is unavailable to return a punt so the opportunity for a youngster to see some action is possible. As far as kickoff return duties go, there are two guys lined up to return the ball on each kickoff. Who are the candidates to emerge as an impact player as a return specialist? Terrence Alls, Quay Chambers, Jake Kite, Trevon Lee, Johnathan Lloyd, Alonzo Saxton and Chris Taylor are all guys who could compete to see action as a return specialist.
It is impossible to predict who will emerge as an impact player. Raise your hand, if you predicted, prior to the start of last season, DeVon Edwards would be a defensive star and kick return specialist...not a lot of hands raised. Coach Cutcliffe and his staff have accomplished an excellent job recruiting talented players to Duke, so while it is almost a given someone is going to step up and have a breakout season in 2014, Duke fans are going to have to watch the season unfold in order to figure out who the new star(s) will be.