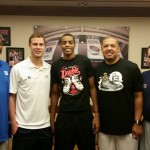 When Duke offers a sophomore in high school, it's a big deal and means he's pretty darn good. The Blue Devils strayed form their normal policy by offering the top point guard in the Class of 2017 in Troy Brown.
The youthful point guard already stands near 6-6 and has a smooth handle and game. It's not a problem for him to get past defenders, often times making them look foolish in the process as he slithers through the lane for a dunk.
Brown visited Duke on an unofficial visit over the weekend and he came away with a rare offer from Coach Mike Krzyzewski for s rising sophomore. . Brown holds several offers already, including one from UNLV when he was 14 years old. He is also ranked the top point guard in his class at ESPN and while he has a way to go and grow, he could end up being a kid who can play other positions.
During an interview when he was thirteen years old, Brown listed Duke as one of his five dream schools growing up, so an early visit to the Duke campus should shock nobody. Brown most recently turned a few heads at the prestigious LeBron James Skills Academy earning him the number two spot in his class by ESPN as well.
Not surprisingly, Brown is already getting involved with USA Basketball and he also attended this past years Chris Paul Camp where he claimed his goal was to show the world a tall prospect can indeed run the point. He uses length and athleticism to his advantage and will surely get better with a lot of time left before he enters collegiate basketball.
If the budding prospect wasn't already hot enough and starting to get serious hype for his on the court exploits, he will have even more with on the top programs in the nation offering much earlier than they normally do in Duke.
Brown currently plays AAU Basketball for the Las Vegas Prospects.