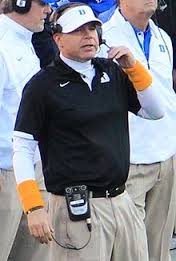 Blue Devil Nation tuned into Duke's mid-week teleconference with Offensive Coordinator Scottie Montgomery and Defensive Coordinator Jim Knowles on Wednesday afternoon. Coach Montgomery emphasized that the staff was finding out more about the team, the players are growing as a result of summer workouts, preseason camp and finally getting out on the field against an opponent.
Here are the Football Teleconference Notes from the two coordinators comments on the Blue Devils performance against Elon as well as the upcoming trip to Troy.
Scottie Montgomery on a true freshman running back playing: It is not easy for a true freshman running back to play. Duke expects running backs to execute in three phases of the offense, as a runner, receiver and blocker.
Scottie Montgomery on Anthony Boone: He spends a lot of time in the building preparing. When he is not working out he is watching tape or studying the playbook. He also has schoolwork to complete so the amount of time he devotes to being prepared is impressive.
Scottie Montgomery on Troy: In response to being asked about establishing a balanced offensive attack against Troy, Coach Montgomery stated, we want to be balanced, we want to be a great running team that can throw the ball. Against Troy we will be who we are, which is a balanced offense.
Jim Knowles on Turnovers: Creating turnovers are a risk versus reward situation. It takes a veteran player to understand when the opportunity to take a risk is right. You don't want to give up explosive plays, but as the season progresses and opponents become more talented the team has to take the risk.
Jim Knowles on Pass Defense Scheme against Elon: Duke gave up the short pass by design as they desired to keep everything in front of them to avoid explosive plays. As the more talented team, Duke expected to prevail via strong fundamentals.
Jim Knowles assessment of Linebackers: In general, the linebackers were in the right place. They need to get better on pulling the trigger on attacking the line of scrimmage. He graded the unit at a B.
Jim Knowles assessment of Defensive Line: The defensive line was great as they controlled the line of scrimmage against Elon. He believes the DL can be a team strength this year. They need to continue to work on the pass rush. Overall, he graded the unit at a B+ and stated he would not give them an A as he wants them to continue to work hard and he does not want to turn them into diabetics by giving them too much sugar.