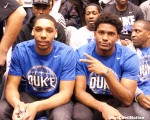 This will be an exciting week for Duke Blue Devil fans! It's that time of year again, when football and basketball converge and that means a lot of pumped up fans.  That said, here are some thoughts on the football and basketball scene -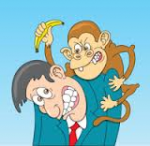 Slam that Monkey ...
The Duke Football team took care of business in Atlanta defeating the Georgia Tech Yellow Jackets. The Blue Devils last win in this series came in 2003, so they indeed got that monkey off their back this past weekend. With the win, Duke stands 3-2 in their last five game against ranked opponents, including the losses to Florida State and Texas A & M a season ago. The win also earned them votes in both polls where they are currently 28th in the A.P. and 29th by the Coaches.  This past weekends win was a big one for the team and program.
 Duke needs fannies in the stands ...
It's that time of year when each game is a bigger one that the last for bowl hopeful teams. Duke will next face Virginia, a team that has had the Blue Devils circled on their calendar. This years UVA team is tough and physical and they stand 2-0 in the Coastal Division. Vegas currently has Duke listed as a 3 point favorite but it will take a great effort for a win and fan support is very important in this game. There is a similarity to last weeks game, in that Duke open as a 5 point favorite and that has dropped quickly to 3. Virginia is also coming off a bye week just as the Blue Devils were before their first ACC win. I am by no means a better, but this is what they call a trap game for those who do. What does this all mean? It'll be one heck of an effort for a Duke win. The Blue Devils need their student section full in this game. They also need their fans to show up despite the game being televised which kicks off at 12:30.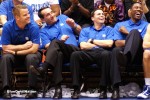 It's time for Countdown to Craziness Duke Basketball never stops. But it surely begins again when the annual Countdown to Craziness rolls around. For the record you can still get tickets through the Duke Ticket Office. This season Duke Blue Devils are highly ranked as always and they feature another stellar class. This will be fans first chance to get a glimpse at the likes of the much hyped Jahlil Okafor. Not only is Big Jah as he is known last years top rated center in high school, many think he is that as a true freshman in college hoops. The Blue Devils have been picked in all the pre season top ten's to date. Their highest ranking thus far has been 4th by the Sporting News. Most in the pre season feel Duke will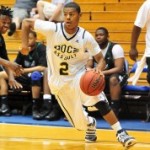 The lone senior ...
Quinn Cook will be the lone senior as far as recruited players go this season for Duke.  It's hard to think of Cook as the elder statesmen here in that I have known the young man since he was fifteen years old.  Cook started his career at DeMatha before transferring to Oak Hill Academy, eventually  landing at Duke.  For those who may not remember his Father passed away at a very young age.  Cook now has the exact same locker as did his mentor Nolan Smith.  Make no mistake about it, he will be a key to success in the coming season be it his play or mentoring younger players.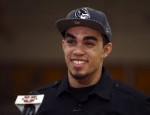 Speaking of lockers ...
It should come as no shock to anyone that Jahlil Okafor and Tyus Jones lockers are side by side.  The two Duke freshman formed a relationship while playing AAU ball and they quite simply do all things together.  The beauty of this for this years team is that they already have great chemistry between them, but it will be vital that they extend that team wide.
Staff solid as always
Many Duke fans worried and for good reason when Steve Wojciechowski (Wojo) left for Marquette.  The season before Duke lost Chris Collins to Northwestern and these two guys had been around forever.  After a season with Team USA, Jeff Capel seems more than poised for filling those shoes.  After all, he was a head man before at Oklahoma and groomed the likes of Blake Griffen.  Nate James is stepping into a larger role as well and he relates well with the players.  One might remember that it was James, along with teammates Chris Carrawell and Shane Battier that visited Coach Mike Krzyzewski when Duke suffered severe losses to the NBA.  James assured the Duke coach that the Blue Devils would be fine then and he is doing the dame now. While Jon Scheyer had his career cut short with an unfortunate eye injury, he is still thriving in basketball.  Scheyer has shown an uncanny maturity early on which belies his young age.  He can mentor the players in that he is barely removed from the roster.  He, like James, can tell guys what it's like to be on a national championship team, while Capel can speak to adversity.  Capel was on the team when Krzyzewski has his back issues forcing him to the sideline.  Together they form a sold core and that should bode well for Duke in the coming seasons.