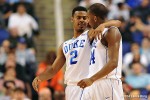 Take your vitamins now Duke fans for there is a busy, yet fun weekend coming up.   It all starts this Friday at 6 p.m. when Coach Mike Krzyewski and the Blue Devils basketball team takes on Presbyterian in Cameron Indoor Stadium.  The very next day, Duke (8-1) will host Virginia Tech in football at high noon in Wallace Wade Stadium.  And later that evening, Duke will play its second basketball game of the young season against Fairfield at 8 p.m. in Cameron, again.
Yep!  That's three games tipping or kicking off on campus within 26 hours.  I suppose that makes for a maniacal experience for many and it's sure to keep a lot of scribes banging at their keyboards from duck until dawn.  That said, let's take a look at the two basketball games sandwiching a huge football game in between in the latest Monday Musings.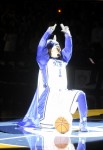 The Season Opens For Duke Basketball
There is no shortage of excitement for this years tip off to the men's basketball season at Duke and for good reason, or reasons.  Firstly Coach Mike Krzyzewski will win his unprecedented 1000th collegiate basketball victory unless half the team is goes down to injury.  Yes, that was sarcasm for this years team is truly loaded.  It all starts with an incredibly talented and mature freshman class which features the much hyped Jahlil Okafor.  Blend the group which includes Tyus Jones, Justise Winslow and Grayson Allen in with some key vets like Amile Jefferson, Quinn Cook, Matt Jones, Rasheed Sulaimon, Semi Ojeleye, Marshall Plumlee and you have a pretty darn good team.  Anyhow, they will take on the Blue Hose who hope the second part of their last name doesn't get a letter added by games end.  Presbyterian is led by Jordan Downing who is a Big South Pre Season All Conference Team player,  Downing is a guy they need on the court and he is a prolific scorer.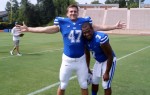 Enter The Hokies At Noon On Saturday
Wallace Wade should be rocking when a traditional ACC power Virginia Tech comes to town.  What makes the Hokies dangerous is that they are coming off a bye week and they'll be hungry to avenge last seasons home loss to Duke.  The word out of Blacksburg is that they expect to sweep their final three games and carry a 7-5 resurgent record into bowl game.  But Duke is on a roll and they are fighting to get back to Charlotte for the ACC Championship Game.  The Blue Devils have become not only a good team under David Cutcliffe, but a good program.  The Blue Devils are firmly ranked in the polls, but they want to prove the few doubters remaining wrong and solidify their standing as a program that has arrived.  This will be a physical battle between to very hungry teams and Wade will need their Wacko's to be there and into the game from start to finish and wearing their Duke Blue.
Catch Your Breath Quickly, For Hoops Plays Fairfield The Same Evening
By the end of the evening, the Duke Men's Coaching Staff will have a much better idea of what their team is capable of doing this season.  With two games in two days, Duke is likely to play a lot of players and combinations and that'll be fine by Coach K.   Early in the season, Krzyzewski is known to experiment with his line ups.  We'll see right off the bat how his team responds to two games in two days which is what you will get at year's end in tournament settings.  The opponent for Duke will be the Fairfield Staggs who are coming off and exhibition win over Bridgeport.  The player to watch for the Staggs will be Marcus Gilbert who scored 26 points in the win.  Look for Duke to try to push him off the three-point stripe where he is effective.  It's bit of a rebuilding year for the Staggs who are picked at the bottom of their conference.
Logistics
We checked with some local motels and there are a lot of rooms booked for the weekend but plenty left if you're willing to drive some reasonable miles.  There are some tickets left at GoDuke for the football game.  If you cannot attend this weekend, tune into Blue Devil Nation who will be at all three games.  For those who cannot make the trip to Durham for the games, both basketball games and the football contest will all be carried by ESPNU.
Duke Had a Visitor And Will Get Another
Caleb Swanigan, a 6-8 post player from the Class of 2015 visited Duke during its exhibition basketball game win this past weekend.  Swanigan has offers from pretty much everybody.  Duke will get a visit from their main target in the lithe Brandon Ingram this Saturday as well.  He is considering neighbors UNC and NCSU as well and recently visited UCLA.   More talk on him for members of the Blue Devil Nation Premium section.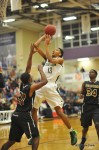 Blue Devil Nation Social Media
Follow our football staff at Bob Green @JBobGreen, Patrick Cacchio @PatrickCacchio.  For basketball and football, that would be me @BlueDevilNation.Net.  Also please like our slowly being built Blue Devil Nation Facebook page and if you are a Duke fan join our popular Facebook Group Blue Devil Nation where you'll find great Duke content.