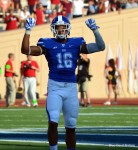 The Duke Blue Devils moved to 2-0 on the young season with their 34-17 victory over Troy.  Blue Devil Nation takes a look at the game with some thoughts and analogies -
Blue Devils Knocked Back Early
There is no sugar-coating the fact that Duke was slow to get out of the gate against Troy.  The Blue Devils looked sluggish on both sides of the ball as the Trojans took an early 14-3 lead on two 83 yard drives.  A lot of this is due to the team adjusting to playing better competition as the weeks develop.  Adjustments were made and Duke went on to out score Troy 31-3 the rest of the game, but there is some concern in that a slow start against some of the more talented opponents on the teams schedule could prove too much to overcome.  Duke regained their confidence and by games end they didn't seem to be wanting to run the score up.  At the same time, a veteran team is expected to put games away  by implementing a dominant instinct and while the team won, it was far from an especially impressive victory.  To move forward as a program, the team will have to manage expectations better and put teams away when opportunities present themselves.
Defensive Stars Step Up
As was stated, the Duke defense was knocked back early on.  But adjustments were made and the team played with much better confidence down the stretch.  Three players had phenomenal games.  David Helton had his best game to date with 15 tackles and he helped move payers on defense once they dug in much like the injured Kelby Brown use to do.  DeVon Edwards was in on 14 tackles and had an absolute key kickoff return to the Blue Devils winning efforts. Lastly, team captain Jeremy Cash, was in on 9 tackles and provided a sack.
Playing Smart
Anthony Boone played a safe and smart game and used his ability to run to avoid what would have been sacks a season ago.  Also, the Blue Devils played their second consecutive turnover free effort.  Protecting the ball is vital in close games and Duke has been able to avoid getting into holes in games to date by protecting the ball.
Not Especially Pretty or Smooth
While the win was effective, it wasn't the type of consistent performance that will give Duke more votes when the polls come out this week.  There is some work to be done and thankfully it's early in the season and a time when Duke is playing their more manageable games.  Duke did some good things, put a lot of yards up but they probably should have taken better advantage of field position and scoring opportunities at times.  Duke settled for field goals when a touchdown would have put the game on ice.
At The Same Time ...
Duke was never really threatened once they took the lead or you just didn't feel the urgency after they settled into the game past being down 14-3 early on.  Trust me when I say, Duke held back a bit on Elon and they likely did that to a degree last evening as well not showing their full hand at this point in the season.  Cutcliffe has been on the side of the ball when teams tried to run it up and he's not been one to do that to other teams possibly from that experience.  Duke won the game, came out of it seemingly healthy and avoided a loss playing a traditionally pesky team in their backyard.  Games like Troy are in some respects no win situations in that you are expected to win.  But Troy is the kind of program capable of springing upsets and they have a tradition of playing better teams tough.  If you beat them, you were supposed to do so, if lose to them, it's considered a disaster.  The bottom line is that Duke took care of business and that's what counts and they are unblemished on the early season.
Plenty To Be Gained
At some point, Duke Coach David Cutliffe will watch game film with his staff.  The Troy game showed a lot of areas the Blue Devils need to work on and they exploited some weaknesses early on.  But there is now an opportunity to tighten things up after the first road game of the season.  Last year the Duke staff was as good as it gets in making in season adjustments, especially after they lost consecutive games.  And a look around the ACC Coastal Division clearly shows that there is not one game on the schedule that can be considered a sure win.  How Duke makes adjustments and improves in season will be a key as a look at the schedule today, shows a much tougher road than many may have seen in the pre season.  With all the Coastal teams playing good football and talented, it will be interesting to see how the Blue Devils handle the coming games.