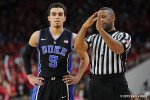 The Duke Blue Devils came out in a zone for the second consecutive game and rode it to a 79-64 victory over Pitt. In the process, the Blue Devil move to 16-2 on the season and 4-2 in the ACC. The win put Mike Krzyzewski at 999 victories heading into this Saturdays match up with St. John's in Madison Square Garden.
The Pitt Panthers played hard as they always do under Jamie Dixon, but their inability to knock down the three-point shot doomed them in the end. Duke built a lead as large as 20.  Duke went for seven minutes no FG's in the second half as the Panthers refused to go away quietly.
Duke was led in scoring by Tyus Jones who tied his career high of 22 points. Jahlil Okafor added 14 points and a team high 5 assists while Rasheed Sulaimon with 13 and Quinn Cook with 11 rounded out double figure scorers for Duke.
Quick Notes -
- Coach Mike Krzyzewski and his team were not talking about #999 wins and only the games at hand.
- Coach Krzyzewski praised his backcourt play tonight which included Cook with a team high 10 rebounds and the play of Jones. He went on to say that Jones was starting to take more command of the offense and running the team better.
- Justise Winslow is banged up with shoulder and rib injuries and will likely take a day off of practice.
- As I mentioned before, Coach K repeated that it was the lack of good offense which helped lead to defensive breakdowns in the two losses. he bristled when asked of the breakdowns pointing to games before Christmas when the blue Devils defense was stellar.
- "If we go under the bus, we do so together," said Krzyzewski who mentioned to that he seldom criticizes his team and leaves that to the media. He went on to state the obvious fact that Duke is young.
- Quinn Cook scored in double digits for the 16th game this season and moves to the 45th spot in all time scoring.
- Duke has recorded double-digit takeaways in every game they've played in this season.
- The win marked the 5rd game Duke has started three freshman under Coach K.
- Duke made 11 three-point shots tonight tying their most for the season in a single game.