Like this weeks opponent Gaorgia Tech, Duke is coming off a bye week.  The two programs have a stand-off tomorrow at hight noon in Atlanta where Duke will try to gain their first conference win.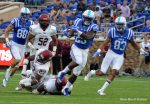 The game will feature the leagues longest reigning active coaches in David Cutcliffe and Paul Johnson.  There was a time when the Jackets seemed to enjoy running up the score on Duke but the last two wins are held by the Blue Devils.
While you may not see it on the surface or in pre game comments, these two programs don't like each other a lot.  In a sense, there is now a rivalry here and there and Duke likes to recruit in Georgia.
It took a bit for Duke to get the monkey off their backs with concern to the Jackets early dominance since Johnson's arrival.  Duke has since close the gap but has taken a step back this year being saddled with injuries.
Duke has had some success against the option, but Georgia Tech disguises their plays better than Army and they throw the ball well when needed.
Coming into the game, Georgia Tech is listed a 7 point favorite.  For what it's worth, Duke, 3-4 on the season, will be underdogs in their final five games.
This  should prove an interesting game.  Duke still has hopes of winning games and getting to a bowl.  Meanwhile. the Yellow Jackets have had this game circled on their calendar for revenge.
What we will likely see is a hard-fought physical game where as usual, turnovers will play a major role.  To win, Duke must protect the ball.  When they have done so, they've found the victory column, when they haven't they;ve suffered key ACC losses.
Expect this one to go down t the wire.  We'll take Duke in an upset 28-27.  If there are three or more turnovers, the Yellow Jackets will win in double digits.