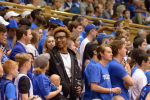 To nobodies real surprise, Wendell Carter made his decision to play basketball at Duke University official this morning.  An imposing big man who stands 6-10 with strong physical play, Carter is a sure thing at the collegiate level.
— Wendell Carter Jr (@wendellcarter34) November 23, 2016
The Blue Devils had been on Carter for well over a year, where Jeff Capel took the lead assistant role in the process.  And there was no shortage of Coach Mike Krzyzewski making his intent known all along.
Carter had long been thought a Duke lean despite some flirtation with Harvard coached by former Blue Devil coach and player, Tommy Amaker.  Other big time schools did not bother even ringing his doorbell past a certain point feeling he was just too good of a fit for the Blue Devils.
Welcome to Duke Wendell @wendellcarter34 Carter pic.twitter.com/mtGXas7KHP

— Blue Devil Nation (@BlueDevilNation) November 23, 2016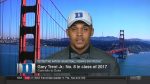 The writing was on the wall even more-so when Gary Trent Jr. selected the Blue Devils.  The two were and always have been a package deal and look forward to playing with one another.  This was also another case of how Krzyzewski's USA Basketball connections helped once again, for both were mainstays in the youth program for the country.
Carter averaged 21.6 points, 13.6 rebounds and 5.5 blocks, leading his team to a state title at Pace Academy last season.  During the camp season he played for CP3 in the Nike EYBL Circuit and had numbers of 14.7 points, 9.7 rebounds and 2.4 blocks in a system where you play lesser minutes.
Having seen Carter play over the years, I can tell you that he's a baller.  He's likely a power forward but can play center.  He's big, long and imposing with solid basketball instincts.  Carter is simply  beast to be arround the rim where his presence alters shots.  He can drain a jump shot or put the ball on the floor to score and finishes strong around the basket.
Carter should flourish in the Duke system where he will likely be playing with some solid perimeter guys.  The Blue Devils might return Frank Jackson and Luke Kennard while adding Trent and others before others before the recruiting period is said and done.
The Blue Devils will now turn their attention to Kevin Knox, Matt Coleman and Mohamed Bamba.  And who knows, another player could be in the mix before all is said and done.
In closing, Duke got one of the best big men in the country to join Gary Trent and Alex O'Connell.  Those additions have the Blue Devils moving up in the team rankings and they are far from finished.