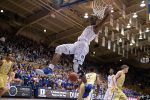 The Duke Blue Devils have good reason to feel good about their play of late.  The team is riding a six game winning streak which has propelled them back in the the regular season race.  The top four seed in the Atlantic Coast Conference receive a two game bye in the tournament.
Duke used solid man to man defense, sharp free throw shooting and the play of Jayson Tatum to defeat Virginia in their last game.  The key for the Blue Devils will be to focus forward and put that game behind them in that Wake Forest offers a different style of play.
Where the Cavaliers want to get you into a grind it out slugfest, the Deacons are content to run with anyone.  The Deacons average slightly more points per game than the Blue Devils in that they are one of the better offensive teams in the league.
Ironically, a comeback win over this same Wake Forest team started the turnaround for the Blue Devils.  In that game, late heroics from Luke Kennard helped Duke escape.  The hope is for this game not to come down to the buzzer.
In order for that to happen, Duke must score the ball well.  This will be the teams second to last outing in Cameron for the 2017 season. Duke will seek to protect their home court and stay atop of the ACC standings with a win.
Make no mistake, Wake Forest will be a dangerous team on Saturday.  The Deacons currently stand 6-8 in the league and 15-11 overall.  In short, they're currently a bubble team fighting for their tournament life.
Wake Forest goes about eight players deep.  They are led by John Collins, one the best frontcourt players in the league.  Bryant Crawford and Keyshawn Woods round out their top three scorers.
Duke is still getting healthy.  While the team has been led of late by star freshman Jayson Tatum and the steady Luke Kennard, they still have players hobbled.  Among those is Grayson Allen who is nursing a sore ankle which showed up in the last game via his shooting stats.
One of the bright spots for Duke is late has been the play of Harry Giles Jr.  He had some good minutes against Virginia and should continue to see more time as the season winds down.  In fact, Giles is an X-Factor in tomorrows game in that he is from Winston Salem. He will have some people keenly interested in this game and there is reason to think he will play well.
But it is not about one player for Duke and Krzyzewski has been sure to get that across.  The Blue Devils are just starting to scratch the surface of how good they can be.  If the team continues to trust one another and play unselfish, active basketball good things will happen.
Duke needs a win here as much as they do any of their remaining games,  But Wake Forest in is a similar position and that makes for a competitive game.  I like where Duke is at this time.  They seem like a team that is hungry for more and they had better be.
I am picking Duke to win by double digits.