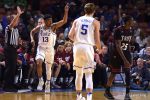 So, it's an away game
It should be clear to many by now that the Duke team will face South Carolina in what will be an away game in the NCAA Tournament. Two things come to mind, one how did a ninth seed get such a great location and UNC fans will be pulling against Duke as well.  On the surface this seems like a foreboding task and makes one angry at the ongoing loss of money for the North State due to HB2.  But my thinking is Mike Krzyzewski will use this to his advantage.  What better way to get your team on its toes than to know the next game will be us against the world.  Duke should focus in even better knowing of the situation and that can overcome boo birds and all that comes with it.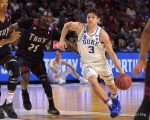 Grayson Allen
Duke seems to plays at their best when Grayson Allen is having success.  Yesterday, the team had no problem getting past their opponent when Luke Kennard scored under double digits for the second time this season.  The key for Allen is not to do too much as it is the rest of his teammates.  On the other hand, Duke will need Allen and fellow veterans to provide poise and a lift.  Allen will have to do so against what will probably be the most hostile crowd against him this season.  If he thrives on that, good things will happen.
A pet peeve
So last evening an extra ordinary amount of fans seemingly failed to enjoy their teams game.  The reason is they lit up my social media with ''What is wrong with Bolden...' '  No matter how many times I would say he was sick, people did not get it.  What is he supposed to do, high-five teammates and spread germs or sit in the middle of them?  It was as if common sense was not present and what followed was some of the most negative and worrisome comments during the live game.  It is not my job to constantly explain to the Chicken Littles in 140 characters on twitter about anything during a live game.  And to ask me or anyone else to do so during a live contest, well... Duke actually put out a statement this morning that Bolden was having flu-like symptoms.  Lastly, some of you hurt the team you pull for when you act like the world is ending or see everything in a negative light.
It is rare that a player has been around as long as Amile Jefferson has been fo Duke.  He is literally the senior captain on this team.  It is doubtful that any player will ever break his mark of the most games played in a Duke uniform.  While he benefitted from a redshirt season, the accomplishment is still a great one.  Meanwhile Mike Krzyzewski can extend his Sweet 16 record for appearances with a win on Sunday.  Duke has been a top 3 seed more than any other school since 1985, that number being an impressive 28 times.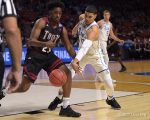 Enjoy him while you can
Jayson Tatum has been quite dominant of late and he will be a top pick in the coming NBA Draft.  The staff has worked him to where he's improved his stock greatly.  His ability to work all over the court and especially on the boards has been the key to his getting better. Instead of worrying about all the little things, Duke fans should embrace his final games in a Duke uniform.  He's just too good not to leave, although everyone would want to see him back for three more years.
Let Krzyzewski and his staff do their thing
Last night there was a needed light moment when Javin DeLaurier scored a basket nobody will soon forget.  The look on the players and coaches faces were priceless.  It was a well needed smile but now it's time to get down to business.  The games will get tight moving forward but there is no reason not to trust this staff to make continued adjustments.  Fans will worry about why so and so did not see minutes and get stuck in that negative thought or moment.  But far too many times, Krzyzewski has pushed the right buttons at the right time and a player has flourished.  Being around the program since he arrived, I have seen this move help this year and carry over onto the next season.  Trust the method and remember great players past like Nolan Smith, who did not play a lot as a freshman.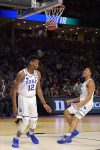 Speaking of under the weather
I missed the first game myself with a bug, but will head down to Greenville, S.C. for the final games.  We hope you have enjoyed photos from my long time friend Lance King.  Be sure to follow our Blue Devil Facebook group or twitter feed to view him capturing great moments. Its's one game at a time now folks.  Duke has had a tough schedule all season and that now prepares the team for a tough second half match up.  The glass should always be half full for the fan base.
Lastly
Duke is practicing right now in a close session.  The team will address the media as will Coach K in a couple of hours so check back then for their comments.