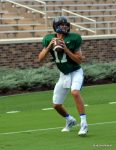 DURHAM, N.C. – Defensive tackle Mike Ramsay returned a fumble 90 yards for a touchdown and wide receiver Aaron Young caught two passes for 79 yards to highlight Duke's 65-snap scrimmage on Saturday morning at Brooks Field at Wallace Wade Stadium.
In addition to his touchdown, Ramsay added one quarterback sack and one caused fumble.  Duke's defense also received contributions from cornerback Brandon Feamster (2 PBUs), defensive end Tre Hornbuckle (1 fumble recovery), defensive tackle Twazanga Mugala (1.0 sack) and linebacker Koby Quansah (3.0 TFL & 1.0 sack).
"I thought one thing the defense always brought was the intensity," Quansah said.  "We've started to communicate more. Everybody is talking. We have our check downs and assignments, and the big thing is really our communication.  I've seen our offense get more physical, especially in the trenches. The offensive linemen are getting after it. They go from a hit on the defensive linemen and then try and bounce right back to us [as linebackers]. We've definitely been getting physical."
Quarterback Daniel Jones was four-of-eight passing for 65 yards while Quentin Harriscompleted four-of-nine throws for 92 yards, including a six-yard scoring toss to tight end Davis Koppenhaver.  Both of Young's receptions – covering 38 and 41 yards – came from Harris.  Running back Brittain Brown spearheaded the ground attack with 24 yards on five carries.
Also on Saturday, Duke head coach David Cutcliffe recognized the program's five award winners from spring practice: tight end Bronson Bruneau (Blue Devil Heart Award), Hornbuckle (co-Most Improved Defensive Player), safety Jeremy McDuffie (co-Most Improved Defensive Player), running back Shaun Wilson (co-Most Improved Offensive Player) and Young (co-Most Improved Offensive Player).
Duke opens the 2017 season at home against N.C. Central on September 2.  Season tickets may be purchased by calling the Duke Athletic Ticket Office at 919-681-BLUE or online at GoDuke.com/FootballTix.