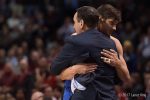 Duke - 81, Louisville - 77
THE MODERATOR: If we could go ahead and start with a brief opening statement from Coach, and we'll go to questions.
COACH KRZYZEWSKI: So that was a quarterfinal game. Holy mackerel. Wow, that was a big time game. We're so pleased and proud of the win because we beat a heck of a team and a team that could win it all really.
We just made some shots and played our hearts out. They played their hearts out. We hit a couple more shots than them. I don't know how you can split hairs on that game. Both teams played so hard. That was a heck of a game, just in case you didn't know that. I would hope that you would know that.
Hopefully, we have some gas in the tank here as we push on. I'm proud of my guys and made big time shots. When we got down by double digits, made a little change defensively. But defensive rebound, and we attacked. We started attack. They attacked us so much in the start of the second half, we were on the bottom of a hill covered with snow catching a sled. Their fast break, man, they were just coming at us. We just had to do something to stop momentum. These guys were able to do that.
Again, we beat an outstanding team. Obviously, I love -- Rick and I are great, great friends and admire everything that they do in their program. It was a big time win for us.
Q. Grayson, first off, congrats on the win. My question is after your scoreless in the first game, it's the first time you haven't scored since 2015, in the Elite 8 game against Gonzaga. What does it mean to put out a good performance in a big game, and what's your confidence like going into the game against North Carolina?
GRAYSON ALLEN: Well, I've had a lot of confidence. It's big for a game like this because I was happy I was able to contribute to the team in what we did. We really needed a spark off the bench, and I didn't think I did a good job of that in the first game. So I thought I could be better than that.
Today when I came in, it was really just trying to give these guys energy. A lot of our starters played big time minutes just 24 hours ago, where I had a little bit fresher legs and was able to go out there and really just attack and hopefully pick the team up and give us a little spark.
Q. Mike, obviously, when you talk about Duke versus UNC, that's a sacred thing. Obviously, those games are played in Durham or Chapel Hill or Greensboro. Is it at all awkward or different that this game is taking place tomorrow so far from home in New York?
COACH KRZYZEWSKI: No. I sound like Popovich, don't I? I spent the week with him in the summer. So he told me how to answer a good question, a really good question, but with a very short answer.
We're going to enjoy this for just a little bit before we think about them. The bottom line is we're going to play two Final Four caliber teams in a row in 24 hours. I mean, Louisville and North Carolina are Final Four caliber teams. We just played them, had a great game. If we're fresh enough, I think it will be a great game.
Q. As you guys were coming up the stairs, it was nothing but joy on all of y'all's faces. Tell me about this win and how happy you guys are for this win.
JAYSON TATUM: This was big time for us because, obviously, we lost to them early in January. We realize that we're a much different team from then. We went through a lot of ups and downs. We're continuing to grow and learn and get better each and every day. So this was a big stepping stone for us.
Like Coach said, Louisville is a Final Four caliber team with a great coach and great players. So for us to come back and play the way we did today after a good win yesterday in less than 24 hours was huge for us.
Q. Coach, can you talk about going to the zone and its effectiveness and then why you changed on the last possession back to man.
COACH KRZYZEWSKI: Well, any port in a storm, so to speak. We could not stop them in transition in man. They come down so hard.
I don't know if our guys got tired, you know, guys who were -- because we had a tough game against Clemson yesterday. So I just thought maybe we could just run back there, everybody try to stop them.
And they missed some shots. It's not like we played a great zone, but it changed a little the tempo. And then we went back to man because we didn't want to give up an open three. So we could switch everything. And our guys, really, that was like the possession of the game defensively for us when we -- our guys switched everything.
Snyder is such a good player. You've got to be careful that you don't foul him because he's trying to draw a foul.
Luke had eight, I think -- what did he have? Eight defensive rebounds, and Jayson had six. That was the key in the second half was the defensive rebounding from our perimeter, which led us to fast breaking. It's kind of like we were fast breaking, and now we were fast breaking.
I had so much fun coaching our team today. I felt like a little kid, man. They were fun to coach. They gave everything. You wanted to not get in their way really. That's why we just called motion, 12, and play. That's a big time coaching strategy. And our kids just played. They played. It's all on them. They played great. They deserved to win.
Q. After Louisville got up 12, your team looked maybe a little tired or certainly looked knocked back a little bit. Within a few minutes, they were reenergized. My question was with the tactics Louisville pressed one time which led to an easy basket, seemed to get him going. You went zone. Was this tactics or more something from within the players?
COACH KRZYZEWSKI: I think more from within the players. Always a little bit of tactics when you make a change. I thought in that play, you bring up a really important play because they're going for a knockout punch right there. If you can remember the play, the guy who caught the ball was Marques Bolden in the middle. He passed it ahead and we got a layup. It gave us a spark.
Also, Harry, that's the best Harry played. He didn't hold anything back, and Marques gave us good minutes. It was so good because these guys have fought injury, especially Harry. To see him out there and having fun and being himself, wow.
These guys right here, they're excited -- I hope you're excited about -- that kind of stuff. That's what I mean. Like today was just joy. Obviously, there's joy of winning, but how you win and to see kids put it all out there, it's great.
I mean, Luke, he's not up here, but wow. A couple of his shots were daggers. Daggers. It's fun. It was fun coaching them.
Q. Jayson, and if Coach wants to chime in too. When Grayson gets fouled shooting that three, there was a lot of energy in the building at that point. You had boos and cheers after each shot and a lot of energy on the bench. Did that energy hit you guys? Were you able to use that energy to help boost that comeback?
COACH KRZYZEWSKI: Well, for me, energy produces energy. I think we already had energy, and people saw it. And then Grayson has played for three years all out. All out. All out. That was another example of it, and his teammates and everyone responded.
And the people who don't want us to win, they responded. God bless everyone. But energy produced more energy.
Q. Grayson, was there a difference in how you felt yesterday, today, or anything that you kind of told yourself mentally last night to kind of rejuvenate today?
GRAYSON ALLEN: No, I just attacked the same way and made some shots today. That was really it. And got going a little bit and just was able to bring us energy when I got in, and then once the whole team got energized, just feeding off of that, like Coach said.
Q. This could be for any of you. Coach, you just talked about the energy today. Usually, when you're playing Carolina, it's either in Cameron or in the Dean dome, where there's energy for one particular team. There's probably going to be energy on both sides. I'm sure Duke and Carolina fans are buying up the ticket from losing teams today. What do you think that energy's going to be like?
COACH KRZYZEWSKI: Typical. Look, they're a great program. We're a great program. We're two of the great programs. We're accustomed, they're accustomed to playing in buildings that have a lot of energy, for or against them. That's why the kids go to those schools is to be in those moments, to be in a moment like today.
So to be in that moment tomorrow, the people who were in the stands, they have a chance to enjoy that because those moments don't happen all the time. Our two programs have created a lot of them.
Q. You talked about today being pure joy for you.
COACH KRZYZEWSKI: Yeah.
Q. You've been through this a few times. When it's pure joy at this point in the season, are those the years that you guys are usually the last ones standing?
COACH KRZYZEWSKI: Just depends if you have a series of pure joys. There can be pure heartbreak too. Our sport's crazy. It really is. And that's why it's madness. These kids put their hearts -- all these teams, the conference tournaments and all that. They win by a point. They lose by a point. It's what captures our whole country. I'm so happy that I'm a part of it and been a part of it for 42 years.
So to have an afternoon like today, I'm 70 years old, and I felt like a kid. I was hugging him, punching him. He didn't punch back, which is a good decision on his part. I love that. I love that. It's nice to be a guy -- it's nice to be a guy in a situation like that, and we got good guys.
Q. Amile had a long stretch on the bench in the first half. Is he okay?
COACH KRZYZEWSKI: Yeah, he's okay. I think he's worn out. He had to play the two big guys from Clemson, and Harry was playing so well that I just felt too that, one, I think, if he's playing well, we've got a better chance to win. But, two, going forward, to get him time in a game like that was really valuable. Very valuable. And it turned out it was more than just getting him time. He produced.
But he's okay. He'll be ready to go.
Q. Mike, what's it been like for you to watch Grayson this year, you know, go through physically and emotionally what he's gone through, and how hard was it to keep him on the bench even last night in crunch time?
COACH KRZYZEWSKI: Well, he wasn't ready to play as well last night. Look, I love Grayson. Grayson, I got his back all the time. And everyone in our program has his back all the time. We're just -- the public eye on our program is a blessing and can be a curse. So we have to be able to deal with all of it.
The thing in dealing with all of it is for everyone to know that we're together. I believe in him. I love him. And I thought what he did today was sensational. I loved it. I loved it. He was himself today.
Q. Jayson, can you tell when your team's playing well defensively -- you guys had some really good stretches on defense today and had some other stretches where they were getting easy baskets. Are there some things you're able to tell focus-wise or things you're doing when you're playing well defensively?
JAYSON TATUM: Just when everyone is in a defensive stand and talking. That's when we're at our best. It has to be all five guys. It can't just be two or three that are just talking and the other two are not. When all five guys are talking in a defensive stand and trying to get a stop together, that's when we're at our best.
Q. Coach, you said you're 70 but you felt like a kid today, and today was more proof that you're still able to get some of the best players in the game. How do you reach prospects who are a lot younger than you are and still connect with them and get them to come play for you?
COACH KRZYZEWSKI: It's called communication. You're in the communication business, right? And being honest with them. I think I can -- do I still get along with you guys?
GRAYSON ALLEN: Yeah.
JAYSON TATUM: Yeah.
COACH KRZYZEWSKI: One thing about coaching, you're always with young people, so you're able to stay younger. I'm lucky. I've done what I wanted to do since I was 16, and I've been able to do it at two great schools. They bring kids like this in. This school brings a little bit more talent than the other one. But it's been fun.
When you're around good people all the time, you don't age as badly, let's put it that way. At least I hope it looks like I haven't aged that badly. Thank you all.