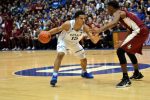 There was little to complain about on the annual Senior Night for Duke Basketball.  Cameron Indoor Stadium was packed and vocal and the team responded with a solid 75-70 win over a talented Florida State squad.
Trust me, when I say that the score was not that close in that Duke dominated for the majority of the game.  Led by freshman Frank Jackson during and explosive sequence, Duke now finds itself heading to North Carolina on an up note.
Jackson electrified the Crazies during an outstanding sequence of basketball where he was aggressive with the ball on the offensive end.  Jackson would end the game with a career high 22 points from key three-point makes and slashing drives to the rim.
But Duke was more than just Jackson.  Playing his last game in Cameron, Amile Jefferson put up another double-double of 14 points and 11 rebounds.  The senior captain also led his team in blocked shots with 4 swats to go with a steal.  It was a heck of a way to close out his career at home.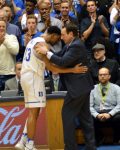 Duke was also aided by the continued terrific play of another freshman in Jayson Tatum.  The likely lottery pick in the coming NBA Draft almost certainly played his last game in front of the Crazies as well.  He had a solid stat line of 15 points, 9 rebounds and a team high two steals.  Time after time he rounded up a key rebound when Duke needed it most.
Then there was Luke Kennard.  The sophomore is in the race for the scoring leader in the ACC this season.  His 17 points and 6 rebounds from the guard spot helped his team go to 23-7 on the season and keep its hope alive for a top four seed in the coming ACC Tournament.
It was quite simply a very good game for the Blue Devils and they now ride momentum heading to Chapel Hill to face league leading North Carolina.  Duke will need some help from other teams and a victory in that game to earn a top seed which benefits from a double bye.
The Blue Devils closed out another good year at home, losing just a single game.  Mike Krzyzewski won his all time league leading 228th ACC win on his home court.  He  has 993 wins now at Duke, seven shy of the coveted 1000 mark.  Dean Smith is in second with 879 wins at North Carolina.
Other notes of interest include that Amile Jefferson became a 1000 point scorer.  Frank Jackson is averaging 19.0 ppg in his last two outings.  Duke leads the series with Florida State by a comfortable 36-10 mark.
Duke will play North Carolina in Chapel Hill on Saturday in a game that will tip just after eight o'clock.  ESPN Gameday will be on hand.