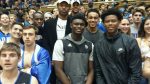 One of the top players on the Nike EYBL circuit is Cameron Reddish and he is getting plenty of attention from the Duke Basketball staff. In fact, he has been to Cameron Indoor Stadium on numerous occasions already where it is clear he likes the Blue Devils.
Just this past season, Reddish had his named called out by the Cameron Crazies where they cheered, ''Cameron Reddish, sit with us,'' during a Duke home game.  Reddish smiled widely and immediately leapt to his feet and made his way to stand with the students.  It was as if he had been waiting anxiously for the invite.
The Duke staff most recently visited Reddish in home at Haverton, Pennsylvania.  Jeff Capel and Jon Scheyer flanked Mike Krzyzewski as they explained how he would fit in at Duke, making sure he knew he was a priority target.
Reddish most recently told Made.Hoops.com about the visit where he stated,  "It was fun, I thought it was a great visit," said Reddish. "We talked about what I need to work on and how they are going to help me get to where I want to be. Coach K spoke on how and where he would play me if I were to go there. He sees me as the key piece to that team and that I could help them recruit other players if I were to commit. Those were a couple of his key points to me."
"He is legendary so about ten minutes into the meeting I was saying to myself, 'wow this is crazy he is really in my house right now,' said Reddish. "I tried to soak up all the knowledge I possibly could from him. He has a lot of great information so I made sure to listen to everything he had to say."
His comments can be read in their entirety here where he also speaks of visits from Villanova and Kentucky.  Link is here - http://www.madehoops.com/news_article/show/780924?referrer_id=1272156
Duke has in the past zeroed in on players who have responded well to their pitch.  They then become the guys who help recruit other players to play around them.  Ideally, Reddish would fit into this mold in a big way should he realize that his future lies at Duke.
Csmeron Reddish with the Crazies. Top 4 in his class. pic.twitter.com/ACZjb1OGNR

— Blue Devil Nation (@BlueDevilNation) January 22, 2017
The Blue Devils staff will certainly concentrate their efforts on Reddish as he takes to the court during the Nike EYBL Session I in Hampton, Virginia later this month.
Reddish has all the tools as a player that Duke covets and he has played for USA Basketball which is another plus.  There are plenty of reasons to feel good about where the Blue Devils stand in his recruitment for this seems to be a good fit for both player and school.
The star to be small forward prospect with a sold skill set can be followed at Killa@camreddish on Twitter and seen playing for Team Final on the Nike EYBL circuit.
Reddish hold several offers, most notably from Duke, Kentucky and Villanova.  I feel very good about the Blue Devils chances with this sold prospect.