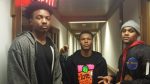 The 2017 late signing date started yesterday with very little news from current Duke prospects.  The Duke Blue Devils already have the pledges of Gary Trent Jr., Wendell Carter Jr., and Alex O'Connell but they seek to round out their roster after three players elected to enter the NBA Draft, two senior starters graduate and two informed the staff they would transfer.
The Blue Devils are also awaiting a decision from rising senior Grayson Allen, who may enter the NBA Draft or test the waters. Whether Allen returns or not, that leaves the Duke staff in need or more bodies to fill the roster.
Duke has long been recruiting its three remaining targets.  And each of them have visited Duke; some on multiple occasions.  Those three prospects have yet to announce their college destination and each of them are highly rated young men with many suitors.
Kevin Knox is a player who could step into the role left void by the departure of Jayson Tatum.  His camp most recently pushed their decision back to the end of April and possibly into May.  Of the three remaining targets, Knox may well be the last to sign his letter of intent.
Knox is being recruited hard by Florida State, Kentucky, North Carolina and most recently Missouri.  Many analyst think the Tigers entering the picture late had an effect on his pushing back a decision, while others think he is simply waiting to see how rosters shake out.
There is perhaps no more open situation than North Carolina, where Justin Jackson just entered his name into the NBA draft.  There is still a possibility that Joel Berry could do so as well and many are waiting to see if Tony Bradley, who is currently testing the waters hires and agent.  The Tar Heels would be majorly depleted if two of the three leave, possibly making them a less attractive situation.  And we also must consider a possibly rules violation probation should the NCAA move on past accusations.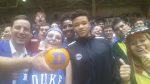 Kentucky is much more settled as is Florida State where the players who have entered the NBA Draft will almost assuredly stay in and sign with agents per sources.  Missouri is the wildcard after a coaching change and addition of Cuonzo Martin and then landing Michael Porter Jr., Blake Harris and having PG  prospect CJ Roberts stick around.
The Blue Devils offer basketball in a constant limelight and facilities at the highest level and a track record of getting players to the NBA. In fact, those numbers swell even more considering they will have three more first round selections  this season.    They are firmly in the race for Knox, despite what some may say.
One of the most important prospects left on the board for Duke is point guard, Trevon Duval.  The kid can run the show from day one at Duke surrounded by talented pieces if he chooses to do so.  Duval is being recruited hard by Arizona, Kansas and Seton Hall as well.
Kansas and Arizona have been legit contenders all the way through the process and both offer attractive situations.  Seton Hall is likely there out of respect and I mean no disrespect in saying that.  They are the hometown team that is going up against the heavyweights of college basketball.
Duval most recently said that he would announce his decision in style and consult with his father on how to do so.  He has also said his decision would come at the end of the month during the flurry of high school all star games of late.
Duke has been all in on Duval, identifying him as the nations best point guard and the one they want to drive the team.  The Blue Devils had a good visit with Duval during the North Carolina game in Cameron Indoor Stadium.
Current Blue Devils in the fold, Wendell Carter Jr. and Gary Trent Jr. have been openly working Duval and other prospects during the various all star games and both were on hand when Duval visited Duke with his family.  One would have to think that Duke is a major player for his services and a favorite with what they have to offer.
Perhaps no player has turned more heads of late than Mo Bamba. He is long, agile and college ready.  The NBA will have to wait on Bamba for now in that he will soon make his college choice as a certain one and done player.
Bamba told USA Today Sports, "I don't have a timeline," Bamba said. "I have to reflect on each university and each school. I honestly think I can play with anyone. I hate to brag, but I think I'm that good of a teammate.
He's right and any of the schools on his list would love to have him. That list is made up of Duke, Kentucky, Michigan and Texas.  Some analyst feel Kentucky and Texas have the edge, but Bamba has been methodical and grounded in is handling of the process.
Duke will have to wait a little longer to hear where these three young mean choose to play.  But the Blue Devils staff have made each of them know of their value and offer a great situation to succeed and get to the next level.
If I were to guess, Bamba or Duval could make their decision made known first and Knox will likely take a while.  Duke would take two out of the three and be happy or gladly take them all.
The timeline for signing national letters of intent started yesterday and runs to May 17th.  The Duke staff will likely be on the recuiting trail later this month seeking 2018-19 players to be before hearing of some of the 2017 Duke prospects decisions.