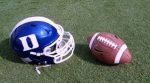 Good recruiting is the lifeblood of any athletic program.   Duke Football continues to get verbal commitments from some of the nation's top players under David Cutcliffe.  Once again, the Blue Devils are off to a fast start with concern to the Class of 2018 where they have six verbal pledges early in the process.
The gem of this class to date, may very well be Taj Rice.  Listed at 6-3, 285 pounds, Rice could be a game changer from his defensive end position.  The Louisville, Kentucky native chose DukeGang, a term many use, over some of the nation's top schools.  Rice is a solid four star product but Cutcliffe and his staff rarely put emphasis on ratings as much as they do good fits.
The Blue Devils have certain kinds of young men they go after these days.  One of the things they look for are the type of young men who will fit into a steady concept.  The program is becoming known as one which develops its players and one where some have a chance to play right away if they have what it takes.
By creating a family atmosphere, Duke seems to be avoiding some of he pit falls with concern to bad off field conduct.  They are straight forward with young men, telling them what to expect and delivering on that vision.  That in turn, has turned into solid classes year in and year out as the program continues to reach for new heights.
Over this past weekend, Duke secured the service of Zamari Ellis, the top Tight End prospect in the state of North Carolina.  Cutcliffe mentioned that he wanted to get in state kids into the program but that last seasons crop just did not have the right fits.
Standing 6-4 and weighing in at 240 pounds, Ellis has proto typical TC size.  Ellis was a good fit for Duke and vice versa.  Ellis was needed for future roster outlooks in that Duke uses this position as a strength on its offensive schemes.
Duke also secured he services of another North Carolinian in Gunnar Holmberg.  One of the Blue Devils earliest pledges is a quarterback for Heritage HS in Wake Forest which is just down the road from Durham.  The Cap 8 co-offensive player of the year will get to work under the guidance of Cutcliffe who has developed the Manning brothers, amongst others.
The Blue Devils went north for wide receiver Jake Bobo of Belmont, MA.  A tall target at 6-4 and growing was pursued by Duke assistant coach Jim Knowles.   Duke has had a lot of success getting players in the fold who attended their camps and Bobo is one of those young men.
Duke loves to recruit players from the south and the state of Georgia. They added another good one in OL, Casey Holman.  Another Duke assistant Jeff Farris land,  Holmon has good size at 6-4, 285.  Holmon is yet another Junior Day visit success for Duke and he will be a factor in time at Duke.
Staying in the state of Georgia, Duke secured the future of CB, Taiyon Palmer.  at 6-0, 167, he could use a little more weight as he gets older.  But he makes up for that with speed and pop.  Palmer is the type of athlete the program loves to get in the fold and mold. Palmer was recruited by Derek Jones, who knows what he wants as a coach, Palmer should become a welcome member of what the Blue Devils call the Cheetahs which is a name of their defensie backs.
Duke is in the running for many more prospects and are working it on the trail as I type.  If the start is any indication, the staff is once again filling their needs and going toe to toe with the nations best in recruiting.
All of the current Blue Devils pledges are three star and above athletes by the various rating services.