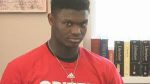 One of the nations most prolific prospects talks about his recent visits from the staffs of North Carolina and Duke in his USA Today blog entries.
Zion Williamson is one of those special players ganering a lot of interest which included the entire Blue Devil staff this past weekend.  Here is an excerpt from  USA Today.
''I had Coach K for an in-home this weekend too.
It was the day after the in-home with North Carolina. They showed up with a full house! I mean they brought everyone; Coach K, Coach (Jeff) Capel, Coach (Jon) Scheyer and Coach (Nate) James. That was big for me. They said they wanted to show me how important a player I was to them and they definitely did that.
We talked about how choosing Duke could mean a lot to me well after basketball because of the brand it is. Then we talked about life at Duke and Coach K said that since they don't have athletic dorms you get to know all of the students really well.
At a school like Duke, it's tough to get in, so he said you never know who you could be living with. You might be on the hall with a person who will be President one day or a brain surgeon or something like that.
I already felt like we had a close relationship, but Coach K said he wants our relationship to be even deeper.
I'm all for it.''
The article in its entirety can be founde here -
The Zion Williamson Blog: In-homes with Coach Roy Williams and Coach K, kickin' it with Quavo