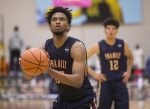 There will always be some buzz around Marvin Bagley III and for good reason. Bagley is a sure fire NBA player to be who will spend one year in college preparing for what should be a long career.  The star prospect most recently concluded his AAU season at the Nike Peach Jam in North Augusta, South Carolina. During this seasons sessions he scored more total points than any other player for a 25.8 ppg average.
Most consider Marvin Bagley the top player in his class and that is plain  to see when watching how easily he handles high level competition.   Bagley works hard around the glass and collects rebounds as if the ball was his to take home and he is an efficient scorer.
Bagley always  has a target on his  back and every team he faces a player wanting to make a name for himself in the match up. "Oh yeah, I mean, I expect it. With all this attention and everybody talking about you in the media I expect people to come hard at me and I have to be ready.  I just have to work harder with that happening and stay with my game," Bagley said.
The schools who call the most per Bagley are the ones that recruit him the hardest and his list is made up of Arizona, Duke, Kentucky, Kansas, UCLA and USC.  He claims to still be taking the process one day at a time while enjoying the ride, yet he will start to take some unofficial visits and soon,  In fact, he will be on the campus of Duke University this week after visiting family in the area.
Bagley told Blue Devil Nation during a Q & A session, "After the Peach Jam is over my family is going to take a visit to Duke to see a little more of the school.  I have been on a visit there but didn't get to see a lot, so this time I hope to see way more.  I am excited about it and can't wait.''
Also soon to get unofficial visits are USC and Arizona.  While the recruiting process is closing down for Bagley, neither him or his family have yet to give any firm timetables which would involve a decision.  Bagley also clearly stated that he would be visiting Kentucky as well and that he planned to see all the schools on his list.
During events, Bagley gets asked all kinds of questions including answering rumors.  Some have speculated he would not go to college, but Bagley denies those accusations, stating, I am really excited about playing in college so wherever I go, I will be excited."  And which ever school he chooses will be equally excited in getting a player with his skill set.
When asked what he is looking for in a school, Bagely said "I want to go somewhere where I can get better.  I want to grow as a person and be around great people and in an environment that I feel like is helping me grow.''  That statement would appear to say he wants to be challenged and go to a school that has success at getting players to the next level.
There is much talk of package deals where prospects want to play together in college, but Bagley says that his focus is on what is best for him and his family more so than it is playing with certain players. During the process, Bagley has been the center of attention for a few years now even as an underclassman. Until this year, he was always buffered by his parents in interviews but that too was a learning process.  Now, he rolls off answers as if that tutelage helped him.
When asked if he was enjoying the process, Bagley stated, "Not a lot of kids have this many colleges calling upon them, so I am just blessed and I thank God everyday for the opportunity."  While some may see his statement designed to be humble, there is a sincerity in his eyes which makes one know it is true.  The fact of the matter is that Bagley has been able to remain both grounded and humble during the process to date.
During one of his games at the Nile Peach Jam, Kevin Durant of the world champion Golden State Warriors entered the gym.  As he strolled to his chair trying not to be hounded for autographs, he stopped to greet and hug Mike Krzyzewski who coached him for USA Basketball.  After the two exchanged some words, he went to his seat where he obviously wanted to see what they hype was about with Marvin Bagley III.
When asked of the VIP guest watching his game, Bagely answered, "It was weird at first because I watch KD all the time and I was actually at one of his games when they played Cleveland this year.  So yeah, I was sitting there watching him and now he is there watching me, so it was a weird feeling but we came out and played hard tonight."
The truth of the matter is that Bagley is a Nike star as is Kevin Durant.  He will one day get a shoe deal just like some that have come before him if he makes the right choices. And lets not forget that some who are recruiting him are among of the biggest Nike schools which include Duke, Kentucky and UCLA. Arizona also signed with the swoosh king in 2015.
Duke is in a pretty good place with concern to recruiting Bagley but they are in a heated competition for his services.  His Dad, Marvin Bagley II is originally from Durham and has family here to this day.  In fact, in a conversation with him it turns out we played junior high basketball at the same school.  But while while his local roots are interesting it is worth noting that he has been gone 20 years and entrenched in the Arizona area of late.  "We won't be going to college for family," stated the father but he also said it certainly doesn't hurt.
Then there is the recent talk of Bagley possibly reclassifying.  The truth is that he has the talent to do so but it is also factual that there would be some hoops to jump through in short time.  Bagley is a solid student but his Dad more or less squelched the talk as rumor via his twitter account, but that does not mean it is off the table.
What is currently factual is that Duke is recruiting Marvin Bagley III hard.  Coach Mike Krzyzewski is at every game he plays,  He is clearly a coveted prospect for the Blue Devils where Mike Krzyzewski has spent an enormous amount of time from the Hampton EYBL session until the Peach Jam finale making sure he was front and center for Bagley.