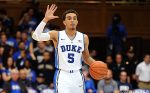 If you have ever wondered if Tyus Jones thinks back to  making that three-point shot against Wisconsin which helped Duke seal the deal for the last National Championship banner, the answer is yes.
The former Duke standout has been following his brother, Tre, another Blue Devil recruit around this summer.  Much like his recruitment, their mom, Debbie, is in tow with other family members cheering him every step of the way.
If one attends any of the Nike events or those in Las Vegas this past week, they will see Tyus Jones mingling with Duke head coach Mike Krzyzewski.  The reason, again, is that he is there to watch Tre as is the Blue Devils head honcho at every opportunity,
Tyus Jones most recently granted Blue Devil Nation an interview. And who better to speak of his brother and his ascent to the top of the rankings in the past several months?
You can be seen chatting with Coach K and his staff at many events while watching your brother.  Your mom, Debbie is in the stands and so much reminds me of your recruitment.  What is it like following your brother, Tre, now?
It's a lot of fun for me because as an older brother I know of all the work he puts in and the hours he spends in the gym dedicating himself to improve as a player.  So, for me, it is fun to see it pay off and the you can see the success follows.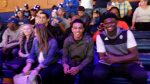 Tre blew up in the rankings.  I mean, he flew under the radar a bit as a junior playing with  current Duke player Gary Trent.  How did it make you feel when everybody started talking about his game this year?  Did you see it coming?
Anytime you see anyone you are close to, be it family, friends, loved ones you are always happy for him.  But I knew it was coming from how hard he works to improve as a player.  But to see it happen is always fun to be a part of.
It is always a family affair,  Your mom is there and it says a lot that you come to see him play in the summer and that you are willing to do so in the NBA off-season.
That is what our family is about.  Being there and supporting one another.  All my tournaments had my mother, older brother and uncle.  We roll deep so for me if I have the opportunity to come out and watch him play, I definitely want to make sure I am there supporting him just like he did for me.
You guys have obviously gone against each other on the court at times growing up.  When is the last time you actually faced off?
Played against each other?  We played against each other last in the Minnesota Pro Am last season.  That was always fun.  It is always fun to go against each other.  We play one on one all the time and worked out together almost everyday.  So we do a lot of one on one, game like situations but that was probably the last time we played against each other.
I doubt there is anyone who could give a better scouting report on Tre than yourself.  So what is your take on his game?
Tremendous leader, tremendous floor general who is a do it all point guard on the floor and one of the best I have seen or played against and he is only in high school right now.  On offense, he is an unbelievable finisher in the lane and can get in the lane whenever he wants to.  Unbelievable range on his shot and just has great equipment.
One thing I have noticed is that you guys hate to lose.
Yes.
I was in Hampton earlier this season and Howard Pulley lost their first game.  He was distraught and obviously hated that feeling. Where does that come from in the Jones family?
It is just our competitive nature.  It is how we've always been and how our family has been.  We have a very competitive family who are always in competition trying to win.  So that is something we both pride ourselves on, especially as point guards.
Of course, his team went on a tear after that loss and he played lights out while stuffing the stat sheet.
Yeah, they didn't lose much this year and every time they do lose, he takes it personal.  It's something he doesn't want to experience or feel that often.
That 2015 National Championship...you carry that ring with you now.  How does that make you feel in this day and time when you think back on it?
Amazing.  Just playing with Jah (Jahlil Okafor), one of my best friends.  Playing for the best coach of all time in Coach K and being a part of that Duke family is something I will never forget and will cherish,. And winning a championship is something they can never take away from me.  They can never take that ring and they can never take that banner away from us.  We worked so hard for it and put so much time and effort in for that one moment of standing up on the stage together and celebrating being the best team in the country.
That was awesome...
Amazing.
Your team, the Minnesota Timberwolves have made a lot of moves in of late.  Are you looking forward to the season and do you think the team will take that next step?
I am extremely excited and yeah I do.  I just think everybody is ready to take that next step.  Everyone is ready tor turn things around and make the playoff.  The whole organization is all about that.
You mentioned Jah earlier.  Do you guys still stay in touch?
Yes sir.  All the time, all the time.  We talk regularly a couple of times a week even if it is something small, we text or get face time no matter what it is.  We are in constant communication and that will be forever.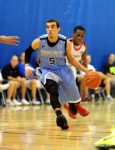 I know God and faith means a lot to you.   Talk a little about that.
Faith means a lot to me.  It is something I believe heavy in and couldn't be where I am today. So, I am very thankful for the position I am in and very thankful for my family and everything God has blessed me with in life.  I know without Him I am nothing.
Do you ever pinch yourself thinking wow, I have had a lot of success at such a young age.
I do.  I do for sure.  It is very humbling  when I take a step back and look at where I am as a 21-year-old and the experiences I have had in 21 years of life.  It helps keep me in such a great mood everyday of my life in that I could have experienced things a lot different.  That is why you will never hear me complain.
I have seen you stop and talk to Jeff Capel and Coach K during the AAU events.  What is it like to see those guys again?
It's just family.  Coach K is like a father figure to me.  When he started recruiting me it was never like I am coach and you're player. It was always a family feel and that was the same with Coach Capel and everyone there.  Everyone involved in Duke Basketball is all about family.
You have said you would stay out of the recruiting situation, but part of you has to be glad Duke is all in on your brother.
Yes sir.  Obviously, it is the school I went to and I am definitely glad they are involved.  I have said from day one I will not get involved with his recruitment because I went through the exact same thing.  I know how stressful it can be and what it means to have your family members there to support you.  So, I always said I will never pressure him to go to where I went.  And that is just how that is going to go.
I can help but see how your recruitment and your brothers does seem to be following a similar path.  You were a guy who took all of his visits.
Yeah, yeah.  I think he is trying tot make his decision in a similar way after seeing what I did.  At this point in his career it is a big decision for his life and very critical.  So if he takes his time or whatever we will be supportive of him.  And when he decides he is ready to make that decision, whatever it is, we'll be there backing him and very happy for him.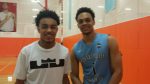 I know your mom Debbie is close by.  Are there anymore Jones on the way?
(Smiling)  Naw, this is it.  I have three nephews now.  My older brother has three boys, so that is the direction things are moving in now.
So, this is the last go round for Debbie.  This has been a big part of her life...
Yeah it is and it has.  I couldn't have asked for a better mother and role model.  She goes to every single game we've plays and has been unbelievable in her support.  Not a lot of kids can say that there mom is always there and he dedication is appreciated.  Even in my college games, she was going to as many as she could and it is just really special.
Tyus Jones has remained humble.  You have an NBA contract, a national championship and a highly recruited brother yet you seem to be on such stable ground.  What is the secret to that?
Just be thankful for what is in front of you and what is given you because it can be taken away in the blink of an eye.
If you could shout out a message to all the Duke fans that follow you, what would it be?
That they're the best fans in the world and I will never take that for granted.  I will never forget the many memories that we share.