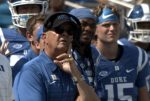 The Duke Blue Devils are coming off a solid 41-17 win over Northwestern.  With the win, the team now stands 2-0 on the young season as they prepare for Baylor.  Here is a general recap of what we heard from David Cutcliffe today.
Stay Aggressive and Consistent
If there is one message Cutcliffe and staff are trying to hammer home to the team it is to remain aggressive and consistent.  Earlier in the day center Austin Davis said that a season ago the team was not as strong up front and that the goal in the off-season was to be better in that area from the start.  So far, this season, the teams offense has been much better by being more aggressive.  The same goes for the defensive front which is getting better pressure on opposing quarterbacks.
Cutcliffe is Expecting Temple
With so little film to go on from Baylor, Cutcliffe said he had watched what Temple did a season ago.  He is also well aware that the Bears are changing quarterbacks in Zach Smith.  Their starter Anu Solomon is on concussion protocol but a change seemed to be in the works despite that.   Smith had success starting the last four games a season ago which included a 31-12 win over Boise State in the Cactus Bowl.  Cutcliffe also said that defensive backs look forward to the challenge when they face a good passer and Smith is a pro style back.    It is clear though, that the Duke coach has respect for Baylor despite their rocky start even going as far as to say their athletes have track like speed.
1's vs 1's
The Duke coach also state that the team was practicing with the 1st team units going against each other.  This is being done in an effort to protect the ball,  Cutcliffe said his ball handlers were getting hit quickly after getting the ball in practice in an effort to teach them what to expect.  Duke has flirted with turnovers in both of their early season wins.
Special Teams Work
Duke also worked on individual player assignments in the punting game and on special teams.  They broke down the process on film and expect Austin Parker to have a better effort his week after a sub par experience in the win over Northwestern.
The Focus is on Duke
Duke is also focusing on what they can control, meaning their play.  Cutcliffe and his players say the team is always striving for consistency and building on that aspect each week.  "We still see some things we can do better," said Cutcliffe.