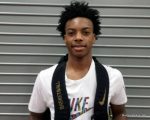 The Duke Blue Devils men's basketball staff will make the journey to neighboring state Tennessee this evening.  The reason for that will be an in home visit with one of the nations best guard prospects, Darius Garland.
A sleek competitor on the court, Garland, has long been a target for Mike Krzyzewski.  That interest has been returned as that Duke is clearly on the big time prospects final list of schools.
Duke will be the second in home visit for Team Garland in that his family most recently entertained Indiana.  Garland is also being hotly pursued by his hometown team in Vanderbilt and Kentucky.
Darius Garland is currently slated to take his official visit to Duke on October 27th.  He will have already made upcoming official visits to Vanderbilt, Kentucky and Indiana before said journey.
Duke will be taking on Northwest Missouri State the Friday of Garland's visit in their first exhibition game of the season.  He will see a team that is earning plenty of hype due to their stellar recruiting class.
Garland plays for Brentwood Academy in Tennessee.  He also played for the Bradley Beal AAU team on the Nike EYBL circuit.    Like many Duke recruits, Garland has been a mainstay on the USA Basketball circuit as well.
When watching Garland you will notice he is a left point guard who has a good understanding of the game.    He is quick off ball and has few weak points to what most consider a complete game.  Garland sees the floor well and has a solid offensive game.  The best thing about Garland and what he is known for is his versatility.