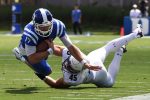 The Duke Blue Devils came away with an impressive 41-17 win over Northwestern to go 2-0 on the season.  Daniel Jones was the first player in history to throw for over 300 yards and rush for over 100 to gain a victory.
Jones ended the game with 305 yards and two touchdowns through the air to go with 108 yards and 2 scores on the ground.  His main target on the day was junior wideout T.J. Rahming who pulled in 12 catches for 127 yards.
Duke out gained the favored Wildcats by a wide margin of 538-191 yards.  Many of the yards for Northwestern came on the last series in which they had the ball.
The Duke defense also held all american candidate Justin Jackson to 18 yards rushing and the Wildcats team to 22 net yards.  Duke was clearly the more dominant team on both sides of the ball in the trenches.
Big plays also helped Duke to victory.  Four timely sacks thwarted Wildcat drives.  Alonzo Saxton has one of those as well as a forced and recovered fumble.  He also led the team with 7 solo tackles.
Sophomore cornerback Mark Gilbert also contributed to a stellar defensive effort by pulling down two interceptions.  That helped keep veteran quarterback Clayton Thorson in check where he managed just 120 yards through the air.
With the win, Duke Coach David Cutcliffe notched his 98th win.  He remains the third winningest coach in program history..
"We were working on all cylinders.  Going into the game, we knew what we wanted to do," stated Alonzo Saxton.  With the win Duke snapped a three game losing streak to Northwestern.
Northwestern head coach Pat Fitzgerald said, "We got outcoached, out executed and out played and that starts and ends with me."   He went on the credit the Blue Devils for their win.
Duke will next take on the Baylor Bears in Wallace Wade Stadium next Saturday.  Kickoff is at 12:30 for the contest and tickets are available at the Duke Ticket Office.
THE LAST WORD - Duke played with a lot of swag today and the difference in their early play is night and day from a season ago.  The team continues to play fast and physical and better special teams play has been a plus.  Make no mistake, this was a good win over a Big 10 team picked 2nd in their division for Cut and company. Duke is averaging 50.5 ppg after two contests and that is a good thing, for next week they face one of the best offenses on their schedule in Baylor.