Duke got their second commitment from a stud basketball prospect for the 2018-19 season when Cameron Reddish announced his intent to be a Blue Devil.
"I'm going somewhere that I can be challenged as a leader, challenged as a student, challenged to grow up, on and off the court," Reddish said and then continued "And that's why I'll be attending Duke University."
The young phenom made his choice known via The Player Tribune. You can read what Reddish had to say by CLICKING THIS LINK.
Reddish joins Tre Jones as the start of yet another stellar class to be for hall of fame coach Mike Krzyzewski.  After some celebration Duke will turn its attention to several other key prospects.
A five-star prospect, Reddish  averaged 22.6 points and 7.8 rebounds a game for Team Final which played in the very competitive Nike EYBL circuit this past summer.  Reddish stands 6-8 but could get taller and weighs around 195 pounds while playing the small forward position.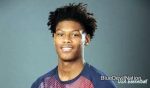 Like many Duke players to be, Reddish played a big role for USA Basketball where he most recently participated in the FIBA World Cup.  Reddish was fourth on a stacked team in scoring with 10.7 points a game for a talented team.
Duke is getting a small forward with long arms who can disrupt passing lanes with his length.  He is quick off his feet and a very adept scorer.  He loves being an on ball defender and is working on being more consistent.  His favorite NBA player is Kevin Durant and he likes to play NBA2K with his little brother.   He is considered a can't miss prospect who will one day play in the NBA.