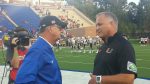 The Duke Blue Devils (4-1) struggled to find the end zone and as a result dropped their first game of the season to Miami 31-6.
After allowing the Hurricanes to take a 14-0 lead on two Malik Rosier touchdown passes in the first quarter - the Blue Devils defense tightened up.
The problem was the offense could not get anything going having drives stalled by the sack, missed passes or penalties.  Duke would get to within 17-6 on two Austin Parker field goals, but then the offense was shut out.
The Blue Devils contained Mark Walton on the ground (59 yards) for much of the game but the Hurricanes found their star back through the air for a team leading 4 catches which went for 79 yards.
Miami finally put the game away on a Roizier to Ahmaman Richards (106 yards on the night) on a 49 yard touchdown pass where they took a 24-6 lead.
The Hurricanes would score another touchdown on a Travis Homer run straight up the gut after a Daniel Jones fumble.  It was just not the Blue Devils night and the team looked desperate at times in the pasisng game.
Duke will take on Virginia next week in Charlottesville hoping to avenge a bad home loss a season ago.  The Blue Devils turned the ball over five times in that homecoming loss.  The Cavaliers are 3-1 and coming off a big win at Boise State.