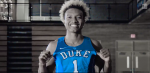 Blue Devil Nation chatted up Duke freshmen Wendell Carter recently and here is how that conversation went.
A lot of changes since I last saw you on the Nike circuit.  You've cut your hair.  Are you going to keep it short now?
I don't know, I don't know.  We'll see how it's feeling.   I might row it back out in a little bit.
What has been your biggest adjustment so far?
Time management.  We are out here and basically on our own now.  We are required to get to practice and class on time.  You don;t have your parents to reinforce what you have to do, so time management has been my biggest adjustment.
I am looking at a rebuilt body.  
Yeah.
How did that come about?
A great coaching staff, weight lifting and my trainer has us on a great eating plan.  So just taking care of your body and doing a lot of work in the weight room.
What do you think your role will be this season?  I mean nobody has likely ever played with this many big men who can all play.
We are all kind of looking for our role right now.  Me, Marvin and Marques and Antonio are all looking at what we can do to better fit the team.  It is kind of like a gray area where we are trying to figure it all out, but we are really great friends off the court, so I think we should be fine.
(Grayson Allen walked by and gave Carter a solid whack on his rear about this time.  To his credit, Carter just played it off as a smiling Allen walked away.)
What do you think about that?
That's just Grayson.
What has he been like as a leader so far this year?
He's been a really great leader and somebody I can talk to on or off the court.  He is just easy to relate to and has a great sense of humor, but he knows when it is time to lock in and when it is time to have fun.
Who is your go to guy among the assistant coaches?
Umm, shoot... if I had to pick one I guess it would be Jeff Capel.  I mean he recruited me and we had the greatest relationship out of all the coaching staff.  So, that is someone I can go to when I have problems.
What are the coaches emphasizing?
The biggest thing they are telling me is I've got to run.  The game is a lot faster than it was in high school.  It is more so like you just have to go out there and play and not over think the game because the ball is going to find the right person.
Take advantage of an October special and join BDN Premium.  Whether you join for 1, 3, 6 months or a year, we'll double your membership time.