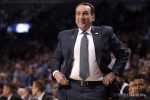 Coach Mike Krzyzewski addressed the media today.  The vast majority of the questions and answers were directed at the latest happenings in college basketball.  That being the situation with shoe camps and assistant coaches caught in scandals.
Since you will be reading about that pretty much everywhere within a few hours, I will concentrate on the few things he said about this years team.
Opening Statement
"We have had a few practices that have gone well.  The whole fall and summer we have been pretty much injury free.  We made a lot of changes in how we were going to condition and test and that has gone real well and we're in good shape.  The only kid who has had a little bit of a problem is Javin (DeLaurier) who had a little bit of an issue with his hamstring on Saturday.
We will keep him out.  We will practice today, tomorrow and Thursday and then there is Fall Break for our school and we will have off until next Tuesday evening.  We will keep Javin out until then. He's been a big surprise, he has had a great off-season.
I'm pleased with out team -- we are not a team yet.  We are a much different team than last year because we are big.  We are very big and athletic.  We normally have this plethora of shooters, but probably, well, we don't have that many.  We will not be the outside shooting force we have in previous years.  But hopefully we will be an outstanding rebounding team and defensive team while playing up and down the court.
Our freshman just need to communicate with one another.  They get along with each other off the court, not that they do not on the court.  But communication ...reinforcing the roles of others is a very difficult thing to teach a young player.  There mind (as a freshmen) is more inward than outward.  So the more we can adjust that the more communication we will have.
I am in good shape, I am 7 weeks out from my knee replacement.  I am not where I am going to be but I am really good.  I have done two rehabs a day for two weeks.
On his Defense with a Big Team
"One of the things we are doing right now is trying to learn about our guys.  Instead of putting them into an old system, it takes time to figure our guys out.  Obviously, if we went real big, it lends itself if we play zone.  If you had Bolden, Wendell and Bagley in and we will at certain times or starting. "
"What does that do? How do you play them offensively.  We are still going to play man but we can do some zone and that is a very big zone.  Whether you play them with Trevon and Grayson or Grayson and Gary, I think this will be a unique process of seeing what we can do. I think this will very much be a developing team and when I say that it is not a cop-out.  Are we suppose to win right away?  So, be it.  But who we are right...and who we can be...I think we will keep getting better as the season goes on."
On being so young
It means that players who have played little and are sophomores need to be empowered to express the culture.  Because, they know it but do not have the credibility of playing time but do have the credibility of being here.  And out managers and staff will be a part of that.  Team building things we did in the off-season help with that.  There could be some team slippage x's and o's wise or culture wise.  The fabric of a junior-senior season team is hard to replicate and we have to adapt and figure out how to win and keep up our standards.
On Grayson Allen
"One, you can only vote for a senior, K says laughing.  He deserves the opportunity to lead.  Often times the best leader is the one who has gone through the most experiences.  I think it a tremendous opportunity for him and the guys.  He's in great shape (knocks on wood - really)  and he is playing lights out basketball right now."
On Javin
He's as good an athlete as we have.  To get back to this...it does not mean that every kid who leaves high school has to go pro straight away to get there.  I think Javin will eventually be a pro.  It is just the process of becoming that will take longer.  He is long, 6-9, 230 and he is a really good athlete who has become a really good rebounder.  He eats up the court when he runs and he can defend multiple positions.  We could have him out on the perimeter or he could be one of our bigs.  He has earned it.  I don't want to say we have five starters but he is in that group that can play significant minutes this season.