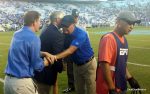 The Duke Blue Devils football team heads into the bye week on a five game losing streak and seeking answers.  After a 4-0 start where head coach David Cutcliffe won his 100th career game, the team has gone south in a big way.
Nobody really expected Duke to win at Virginia Tech this past weekend, but the losses to Virginia and Pittsburgh are a different story.  While few thought Duke would start the season 4-0, once that happened, they surely thought they'd be better than 4-5 heading into a two-week break,
While the program has gained big time facilities improvements off the field, the on the field performance has regressed.  Duke will noe be an underdog in all three of their remaining games where they need two wins to become bowl eligible.
Duke may well not win another game this year  unless they find a way to get things on track.  That would mean back to back 4-8 seasons and that is when plenty of reflection must take place moving forward.
The main culprit of the tailspin has been an offense that seems to have an endzone allergy.  Duke has averaged a mere 11 points per contest in their losses.  After looking as if this unit had improved after the fast start, they instead look even worse than a year ago.
Duke needed to average another touchdown per outing or around 31 ppg this season to win some games.  In a year, when the defense has shown vast improvement, the offense is just plain offensive at times and that is keeping wins off the board.
The cold harsh truth is the offense is out of synch and is playing with little confidence.  The downfield passing game  has been atrocious.  There are dropped and over or under thrown balls in every game and receivers cannot seem to get out of their own way or run a clean break.
It is just messy on offense where only the running game has seemed to work at times.  Daniel Jones in his second season as a starter has not been the player of late he was in the Blue Devils best win against Northwestern.  But it is not all his fault, but a collective issue on the scoring side of the pigskin.
It may have looked to some that Duke made progress against a Florida State program in a 17-10 loss.  But this is not your typical Seminoles team and they were ripe for an upset if you could score some points.  Florida State sits in last place in the Atlantic Division to date after being crushed by Boston College this past weekend,
Take away the Blue Devils win over NCCU and they have victories over a good Northwestern team and North Carolina and Baylor who have a single win between them.
It is hard to see this years team turn things around with any kind of objective view.  But they do get a week off where they need to do not only some serious soul-searching but make some changes in how they do things.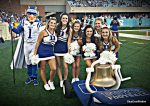 Duke will face two teams in a row which run the option in Army and Georgia Tech, so there is reason to feel the defense can prepare for another tough outing or two.  But they need help from the offense which has to put together a drive where they can find the endzone.  And they have to do this more than once.
To date the Blue Devils can hang their helmets on securing the Victory Bell for another season.  But one would think they want to do more than just that.    It will be interesting to see if this team can close the year as they started it and go into the off-season with some momentum.