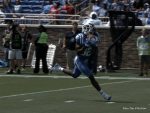 The Duke Blue Devils (4-1) head to Charlottesville to take on Virginia (3-1) this Saturday.  The Wahoo Nation is excited after a road win over traditional toughie Boise State.  The Blue Devil Nation hopes their team gets back to its winning ways after falling to Miami.
During this weeks media day, Duke players did not seem to seek revenge in this match up.  That might surprise some after a 34-20 loss a season ago.  In that game, Duke committed five turnovers and lost to a Virginia team which won a mere two games on the season.
But both teams are different from a year ago and both teams are better.  In his second season, Bronco Mendenhall has his  players playing together.  Kurt Benkert leads the Cavaliers offense with 10 touchdown passes and just a single interception.  Virginia crushed Boise State on their blue field 42-23 and they have proven they can throw the ball against anyone.
The Cavaliers have had a total of 15 days off to prepare for Duke. Meanwhile, Duke played on a short week against Miami while coming off a victory over arch rival North Carolina.  Recent history has gone the Cavaliers way, so Duke needs to reestablish itself against a division foe that has not recruited as well.
For Duke it all starts with a better defense, namely the units front.  Duke needs to pressure Benkert and shut down the Cavalier running game, while the secondary holds their own.  Winning this contest depends on the aforementioned happening.
Duke also needs to get off to a fast start, for the team is not known in recent years as one which plays well from behind.  Daniel Jones will look to get back on track after his team has struggled mightily in the red zone of late.
The Blue Devils will look to once again run the ball which has been the strength of the offense to date.  The combination of Shaun Wilson and Brittain Brown is a solid one-two punch and Duke is better when they control the ball.
David Cutcliffe has been spending a lot of time working with all aspects of the special teams.  The punting game or ball placement has lacked punch of late and field goals are still a mild adventure but getting better.
Virginia comes into the game a 2.5 favorite and make no mistake this is a big time ACC match up of major importance for both sides.  This is the kind of game where neither team gives up, so playing from down to down or quarter to quarter is essential.
I think Duke does remember last years homecoming loss.  If the Blue Devils can simply not turn over the ball, they stand a great chance in winning this game.  This will be the first real road game for Duke this season and a bit test for younger players.
Duke comes out with focus and wins.  Duke 31 Virginia 22