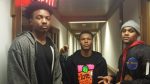 Duke freshmen point guard, Trevon Duval, is in a race to get better before the season starts.  The athletically talented young man will be given the keys to drive the team from day one.  Duval is learning how to play with a lot of talent around him and to be a better distributor to his teammates.
So, what is up so far this year?  I know you are glad to be here and are looking forward to playing against somebody other than Duke players.
It's fun being here on the Duke campus and playing with all these great players,  And yeah, you're right, it does get tiring playing against just your teammates, so I am very excited for the season.
There is a lot of pressure for a freshmen -- having the ball in your hands from day one,  Krzyzewski says he likes what he sees right now, but that he will like what he sees down the road a bit even better,  Talk about how you will go about handling that.
I am kind of starting off new as a freshman this year.  As time goes on I am going to get better.  I am learning a lot of from Coach (K), Grayson (Allen) and a lot of the older players, so in a couple of weeks from now I am going to be a lot better and smarter with the ball.
I followed you in high school, so I know you're a very explosive player.  And you are playing on a team with a lot of explosive guys.  What is it going to be like to play point guard with that many weapons and guys who can all throw down dunks?
It's going to be a lot of fun.  It is going to be a lot of fun with a lot of highlight reels and a lot of fastbreaks.  We are very long and athletic and that is going to get a lot of stops on defense and lead to a lot of highlights.
Trevon, how would you describe your game in your own words, if you were scouting yourself?
I would say play maker, especially on this team -- a play maker for everyone, get everybody shots and make everyone around me better.  Taking and making my shots when I can.
Obviously, you are going to be playing a lot with Grayson Allen and Gary Trent.   What has it been like playing with those guys?
I love playing with both of them, honestly.  They make the game a lot easier for me.  Whenever I drive, they help me out for there is an easy kick and it is pretty much automatic for both of them.  So, playing with them, I will hopefully get a lot of assists.