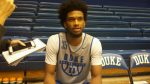 The Duke Basketball team held their media day this afternoon.  I was fortunate enough to talk to incoming freshmen, Marvin Bagley III  one on one as the event started.  I would be later followed by ESPN the magazine who is doing an article on him in the near future.  Shortly thereafter, the media throng descended upon him
So the Q & A ahead will not be what you are seeing in the various videos which will come out in the next couple of days.
So, how has life been since you've been on campus?
It's been great.  Meeting new people and seeing more and more of the school I didn't see before.  I am just enjoying taking it all in one day at a time and I am having fun while doing it.
What other players have impressed you the most on this team?
Everybody.  Everybody is working together.  We're still trying to figure out each other but I am impressed with how hard we've been playing.  We still have a way to go but it is coming together for us, so I'm really excited at how good we can be.
What has been the biggest adjustment for you so far?
The speed.  The speed of the game.  It's a lot different from high school basketball.  With me just getting in and learning different plays and things, I have to learn it on the fly and fast.  So that is one thing I'm adjusting to, but I am doing a good job, I think, so I just have to keep it going.
I guess it has been kind of cool having family around with your Dad being from Durham?
Oh yeah.  It's been real good seeing them and family is always important to me.
What has Coach K's message been to you so far?
Just play together.  Take what we do individually and try to mold it into one team.  It is not I, it is we.  He just wants us to keep playing hard and together and make the game easier.
You guys are itching to play against somebody other than one another, right?
(Emphatic laugh) Yeah.  We are definitely ready.
Who do you go up most against in practice?
We are switching up all the time, but I usually go up against Wendell (Carter), Marques, JRob...I may even guard a smaller guy, so we are always switching it up a little bit and that is what makes the game so fun and exciting.
What assistant coaches have been working with you the most?
Coach Nate (James), Coach (Jeff) Capel.  They have been doing stuff with me before practice and watching some film after and stuff.  I am working on my mid range game and a lot of different stuff.
You will likely drift out to the three-point line I assume, or do you think that will happen?
I mean I'm just going to take what the game gives me.  I work on that stuff, I work on my threes and everything else. So, if I get the chance in the game to take that shot, I will take it.  They just told me to do what I do, play hard and just play the game and don't think.  So, whenever I get a shot I will take it.
Have you ever played on a team with this many big guys?  I mean that has to be sort of a luxury.  Will it be hard for you guys to figure each other out?
Yeah, it is my first time actually playing with multiple big guys.  So it is an adjustment for me personally.  I am going to be out on the wing a lot now and just being able to switch it up more.  That is one thing I am excited about -- expanding my game to the wing and becoming an all around player.  To be able to have enough big guys to allow me to do that is amazing.
Will you get out in the passing  lanes more, trying to use your length?
Yeah, just playing the game.  Getting a jump on the ball and getting hands on the ball...just trying to play basketball and get steals and go the other way and get some easy buckets.
What are you most looking forward to this season?
(Slight pause for thought) I am just looking forward to my first game.  My first game ever in Cameron is exciting for me.  I think about that every day.  Just being able to go out there and finally play against somebody else and play together.  I am really looking forward to that.
How do you guys get along off the court.  Are you guys pretty tight?  
Oh yeah.  Off the court, everybody are brothers.  As people say we are the brotherhood.  Off the court we hang out and laugh with each other and play NBA 2-K.
Just being able to be a college student you learn.  You see a lot of different things being in college.
You played with Chris Paul.  Some people assume you can just waltz in here and everything is easy for you.  What has been the hardest thing for you?
Just practices.  We practice all the time and really hard.  It is way different from high school but it is at a very different speed everyday.  So, you just have to drink a lot of water and make sure your body is right.
You got the Slam magazine cover recently.  Is that kind of cool?  How does than make you feel, overall?
It's a blessing being able to see my face on a magazine.  I am lost for words, but at the end of the day I can't let it get to me.  There are bigger things I am trying to accomplish and I understand that.  My focus is on coming out here and doing whatever I can to help this team win.
One last thing.  Your Dad has always been able to keep you grounded.  He has had this whole thing mapped out.  He won;t let you let, you, how can I say this -- get a big head.  I think a lot of people are surprised when they talk to you how down to earth you are and the focus you have on the big picture.
It's all bigger than this -- bigger than basketball.  Basketball is going to end some day, so I just have to stay humble and while I can, play this game.