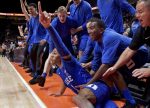 The Duke Blue Devils looked dead in the water when they were down 16 points to Texas with just over eleven minutes to go in the 2nd half.  But despite the teams youth and their captain in Grayson Allen fouling out, Duke (7-0) posted a thrilling 85-78 overtime victory over a game Texas (4-1) team.
"This was a magnificent victory because we were totally outplayed.  It looked like we were unprepared.  They were sharp and we were the worse we have been this season," said Duke Coach Mike Krzyzewski referring to the teams 1st half effort and part of the 2nd as well.
And he was right.  Duke was down large at the half and nothing was going right.  They were simply being outplayed in pretty much every area of the game.  But there is a reason you hang in there until the end and Duke did that despite their youth and mounting stress.
"It was a very calm locker room.  The kids believed in what we were doing and each other," said Krzyzewski of how his players felt being down by 11 at the break.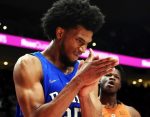 Duke was beaten on the boards in the first half while turning the ball over multiple times where Texas had but a single turnover.  The Blue Devils would hold a 10 rebound advantage in the second half and that with a never say die attitude helped the team to a win.
As the game wore on, Duke was able to get the Longhorns in foul trouble.  Bamba fouled out on a key Gary Trent Jr. basket late in the game.  Texas would hang on for a bit longer but once Duke took the lead, they lost it just one more time down the stretch,
Duke would lose their captain, Grayson Allen on a charging call but the Blue Devils reached deep.  Allen ended the game with 12 points, all of which came in the second half.
The aforementioned Trent tallied 17 points while grabbing 8 rebounds.  His three-point play which fouled out Texas center Mohamed Bamba was one of the plays of the game.  Or should I say, one of many.
Wendell Carter Jr. added another double-double for Duke of 14 points and 11 rebounds.  He scored key baskets and pulled down rebounds with the game on the line.
The big difference maker for Duke was once again the play of its fabulous freshman Marvin Bagley III. "As they say in the NBA, he was a problem.. with a capital P.  You talk about a kid playing with all his heart -- he was terrific," said Krzyzewski.
Bagley would end the game with 34 points which ties a Duke record originally set by JJ Redick as the most points of any freshman newcomer in a single game.  He would also add 15 rebounds and Texas had no long-term answer for him.
Duke had five freshman out on the court in overtime, yet they found a way to win.  It wasn't easy for Texas deserves a lot of credit for a Herculean effort.
What the Blue Devils did in the process was to grow a little more as individuals and a team.  The Blue Devils found that winning effort in the end which sends  them to the Championship game against the winner of the Florida-Gonzaga game.
When Duke could have folded the tent and accepted a loss down 16, they instead gutted it out.  What we witnessed was an early season PK80 basketball match up which had a late season like tournament atmosphere.
It is only November and there are four months of basketball to be played before March.  But this Duke teams youngsters won on the road for the first time in a difficult situation.  They can do an even bigger thing with another victory against what will be an undefeated, ranked and older team this Sunday evening.