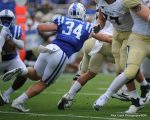 It will be a cool Fall day when Duke heads to Army to take on the 7-2 Cadets this weekend.  The Blue Devils are on a five game losing streak as they try to find the recipe for a win at hallowed West Point.
How can Duke win?
Army is all about ball control and they barely gave Air Force a chance on offense a week ago in a shut out win.  Duke must make the most of offensive possessions and keep their own defense off the field.  It would also help the Blue Devils to create a turnover and for the offense to find the end zone.
The concerns
Confidence plays a big role in games and the Blue Devils have had very little on offense in their last five games.  The Duke offensive coaches had a team film session watching the Virginia Tech game during the off week.  Duke flat-out does not need to play from behind in this contest to have a realistic chance of winning.
What will happen
My guess is a very low scoring game.  The Duke defense has played well this season but they have not faced an option team.  This is again, more or less a must win for the Blue Devils.  Duke has been pretty good under Cutcliffe after bye weeks and Army is coming off an emotional win over a fellow service academy.
The pick here is Duke 20 Army 17