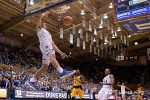 The Duke Blue Devils cruise to a 116-53 win over Bowie State in its final exhibition game of the season.  Duke was led by Marvin Bagley III who scored 25 points, while Wendell Carter Jr. added 23, Gary Trent Jr. 22 and Grayson Allen 21.  Marques Bolden also scored in double figures with 13 points.
On a day when three freshman sat out due to academic reasons, Duke got 11 assists from Grayson Allen who had no issue running the team.  Part of that may be due to the staff working with him on his balance in the off-season per Mike Krzyzewski.
Sidelined for the game were Trevon Duval, Alex O'Connell and Jordan Goldwire.  All three players are expected back for the opener against Elon this Friday night.  Krzyzewski stated in his post game comments that they key this week would be to get back to good chemistry with these players.
Krzyzewski was pleased with his team's performance where they dominated the paint in every way.  Duke opened the game on a 29-3 run and kept the intensity to open the second half by going on a 9-0 run.
Duke held a whopping 58-27 rebounding edge on the boards, led by Bagley III with 14 boards and Carter Jr. added 10.  Marques Bolden added 8 as well and seemed to please the bench where he hung with second shots and put backs.
The Blue Devils were a much better team than Bowie State, but they maintained their intensity and drive for most of the contest despite huge leads.  And that is all you can hope for in an exhibition game.
Duke looked scary good when in a zone in that as Krzyzewski said, they made for a wide scheme and they are long.  They completely took away passing lanes and anything cross court in several trips down the court.
Despite missing some players, the Blue Devils chemistry looks solid for this time of the season.  That means the staff has done a good job meshing the players together after going hard against each other in practices.
The Duke vs Elon game will tip off at 7:00 this coming Friday night in a game televised by the ACC Network.