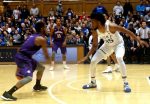 The Duke Blue Devils defeated a pesky Furman team 92-63 in Cameron Indoor Stadium to push their season record to 5-0.  Duke outscored the smaller Paladins by a whopping 64-28 in the paint.
Wendell Carter Jr. grabbed 9 of those rebounds to go with his 14 points in just 24 minutes of play.  Marvin Bageley III added another 8 boards to go with his team high 24 points.
Grayson Allen had an off shooting night where he had a season low 5 points but led the team in assists with 6 dimes.  Duke also got another solid effort from Javin DeLaurier who had 4 blocked shots, 6 points, 6 rebounds and 3 steals.  Duke Coach Mike Krzyzewski said he had been doing those kind of things all season when questioned of his high motor style.
Perhaps the most impressive player for Duke was Trevon Duval.  The freshman point guard has seen his assist fall off of late and he dished 4 tonight.  But Duval added 18 points on a variety of offensive moves.  When questioned by Blue Devil Nation in the post game he admitted that he loves to play on the move more than half court.
Duke rebounded from a lack luster performance in their last outing by defeating a difficult team to defend.  Furman is one of the top teams in the Southern Conference despite falling to 2-2 on the season.  "I thought we played hard and well together and defeated a good team," stated Krzyzewski.
In the end, Duke was just too big for Furman.  "The two big guys they don't have.  Marvin and Wendell did a great job.  Duke also held Furman from their usual three-point barrage, although they started to hit some once the game was out of reach,
Duke will go to class tomorrow before a short practice and then head out to Portland, Oregon for the PK-80 tournament.  Krzyzewski thinks his team is in a good place and mentioned that the season and practices have gone well to date save one hiccup in the win over Southern.
The long time Duke coach also said that the team had been able to practice where they did not before their last outing.   He is quick to mention his team is young and adjusting to going to school, playing basketball and the travel his team has had to date,  Once the dust clears, Duke will have played 9 games in 20 days.
With tonight's win Duke extended their home court winning streak in Cameron to 137 consecutive games.  Duke played its 154th game as the number one team in the nation.  Mike Krzyzewski won his 1076th win.