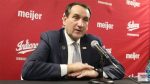 The Duke Men's Basketball team just garnered their ninth win of the young season with a 91-81 win at Indiana.  The Blue Devils finished off the nine games in twenty days undefeated and still ranked as the nation's top team.
While Duke is unquestionably talented, they are still quite young.  In short, do not take for granted their accomplishment despite some of the games being close for they will get even better.
Duke has now had to stage three consecutive comebacks in a row, starting with the overtime win over Texas.  Duke would win the PK 80 Motion Bracket but not without sweating it out against Florida.
Last evening, the team won again had to turn it on late in order to secure the victory.  But one must consider this was a young teams fist true road game of their careers.  Furthermore, they have only played together as a unit  in nine career games.
It is easy for some fans to point to a weakness on defense, or a perception a loss is coming when they are down.  You know what?  A loss could have happened, but it didn't.
What that shows is this team has the ability to win games when many count them out or perceive the situation to be daunting.  Duke has come from 16 and 17 points down late in the 2nd half for wins.  Thanfully for the royal blue faithful, the young players have shown a never give up attitude nor have they wilted under pressure.
Many fail to realize that with this brutal stretch of games against top flight competition is that there has been little time for practice.  Duke has yet to have a chance for their staff to have a practice for corrections on what they see from game film.
With a young team, it is hard to make in-game adjustments on the fly.  They respond better to seeing themselves on film to correct an issue.  Duke is 9-0 and they can play better and that has to be scary for opponents as the season progresses.
The rest of December will be when the team learns some vital lessons.  Duke has upcoming games with South Dakota and St. Francis in Cameron Indoor Stadium.  They will then travel to Boston college for their ACC opener.
But the Blue Devils will a long break before playing Evansville and another ten days off before taking on Florida State.  That is 5 games in 30 days.  While some of this time will be spent with family over the Holiday break, Duke will still have plenty of time for adjustments.
So, Duke is right where they are supposed to be for this time of the season.  They're good but they can get better.  The staff likes what they have in this group and they see a never say die attitude and fight which should  bode well this year.
Coaches want to see their teams chemistry  come together over a period of time.  Duke is playing winning basketball now but it should only get better.  Besides, it is over three full months before the ACC Tournament begins, much less the NCAA Tournament.  And that is when games really start to count.