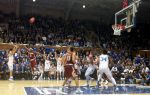 The Duke Blue Devils move to 1-0 in the young season with an impressive 97-68 win over Elon .  Here are out instant game thoughts -
Grayson Allen had an All American 1st half
Grayson Allen had an All American type first half scoring 19 of his 22 points.  His play set a tone for the younger players who would then come alive as the game went on.
Duke did not let up
The Blue Devils started the 2nd half on a 9-0 run which pleased Coach K.   The team did, however, play their bench early and often.  Alex O'Connell had a nice shooting night off the bench and Javin DeLaurier and his motor accounted for 11 rebounds and some good defense.
Marvin Bagkey III is special
In his collegiate debut, Bagley IIi scored 25 points to go with 10 rebounds for his first double-double at Duke.  He assisted Allen for a three while getting one back from him for a dunk which brought Cameron to its collective feet.
Duval was steady
Trevon Duval has a good opening night performance dishing out a team high 8 assists.  One of those was a behind the back pass to Marvin Bagley which ended the half with a roaring dunk.  He made some momentum plays which pleases the coaches.
Trent is a dead-eye shooter
Gary Trent Jr. is a pure scorer.  He went 4 of 5 from beyond the three-point stripe and garnered 17 points in his collegiate debut.
Just the facts
Elon kept the game semi close by hitting 14 three  pointers.  The only bad stat for Duke is that they went 3 of 11 from the free throw stripe. Duke out-rebounded Elon 48-30.  Coach K won his 999th game at Duke and can gain his historic 1000th win against Utah Valley State with a win tomorrow.  Wendell Carter Jr. was hobbled with foul trouble but had 8 points and 6 rebounds in his debut.