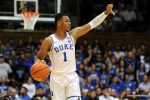 The Duke Blue Devils improved to 11-0 on the young season going into ACC play with a 124-67 win over St. Francis.  In the process, Duke set a school record for the most assists in a single game with 34 on the evening.
They were paced in assists by Trevon Duval who dished out 10 dimes,, while two more Blue Devils would net double-doubles on the season.
Marques Bolden had a solid 2nd half and tallied 17 points and 10 boards for his first double-double this year.  Marvin Bagley III had yet another solid night scoring 21 points and 11 rebounds.
Wendell Caret Jr. had 15 points and 9 rebounds in just 20 minutes of play.  Duke outscored their opponent 58-26 in the paint and 29-2 on second chance points.
It was a feel good night for the team where many players played.  Check back into BDN for more on the game shortly.