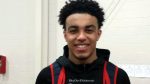 The last time ESPN visited Apple Valley High School, Duke coach Mike Krzyzewski was in the stands watching Tyus Jones go up against Jahlil Okafor.  The two would go on to become teammates in Durham where they led the Blue Devils to a national championship in their freshman season.
Last evening, ESPN returned to Minnesota where another soon to be Blue Devil took to the court.  And that just happens to be Tyus younger brother Tre.
Tre Jones will follow in his brothers footsteps and attend Duke University next season where he will take over the point guard spot.  It is widely thought that, Trevon Duval will announce his intent on going to the NBA after the season.
"He's a Jones," that is all you need to know said a long time follower of high school basketball.  Tre Jones hopes he can incite more magic in Durham where he will join future teammates in highly ranked R.J. Barrett and Cameron Reddish.
Jones would tally 39 points last evening while dishing out a bushel of assists.  He was the best player on the court, but on this evening Apple Valley fell just short of a win in a hard-fought 82-79 loss.  Jones tried to lead a furious comeback but in the end his team could not overcome Minnehaha Academy led by Jalen Suggs.
I witnessed Jones AAU team, Howard Pulley, lose their opening game during the Nike EYBL season,  Jones took that loss hard before his team went on a major roll to become one of the circuits powers.
There is little doubt Jones took last evening loss hard as well with his brother in attendance.  But one of the reasons Tre is rated so highly is his ability to bounce back and improve.
Tre Jones' final line for the evening was  39 points, 10 rebounds, 9 assists, 1 blocked shot,   You can't get much better than that.
For more recruiting news, join Blue Devil Nation Premium.